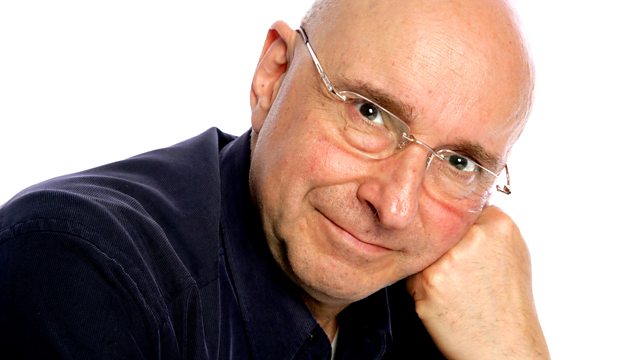 Rob Cowan
The complete Breakfast playlist is posted online after the programme has been broadcast.
07:03am
FUCIK
Einzug der Gladiatoren, Marsch, op.68
Tschechische Philharmonie
Václav Neumann (conductor)
TELDEC 8.42337 Tr 4
07:06am
RACHMANINOV
Valse from Suite No.2 (for 2 pianos)
Martha Argerich (piano)
Nelson Freire (piano)
PHILIPS 475 8520 Tr 2
07:12am
THOMAS TOMKINS
Of all the birds that I do know
The King's Singers
Anthony Rooley (lute)
EMI CLASSICS 2 07063 2, CD4 Tr 10
07:14am
BRAHMS
Rondo from Serenade No.1 in D major, Op 11
London Symphony Orchestra
István Kertész (conductor)
DECCA 4216282 Tr 6
07:21am
DEBUSSY
Clair de Lune from Suite Bergamasque
Renaud Capuçon (violin)
Jerôme Ducros (piano)
VIRGIN CLASSICS 00946 374087 2 Tr 10
07:26am
TELEMANN
Menuet I & II from Overture in D major to Ino
Musica Antiqua Köln
Reinhard Goebel (director)
ARCHIV PRODUKTION 429 772-2 Tr 7
07:32am
COPLAND
Fanfare for the Common Man
Netherlands Wind Ensemble
Richard Dufallo (conductor)
CHANDOS CHAN9210 Tr 1
07:36am
JOSEF SUK
Burleska op.17, no.4
Itzhak Perlman (violin)
Samuel Sanders (piano)
EMI CLASSICS 4 76957 2, CD1 Tr 3
07:39am
MOZART
Rondo - Non piu di fiori vaghe catene (No more shall Hymen descend)
(from La clemenza di Tito, K.621)
Magdalena Kozena (mezzo-soprano)
Orchestra of the Age of Enlightenment
Simon Rattle (conductor)
ARCHIV 00289 477 5799 Tr 7
07:47am
MARTINU
Divertimento (Serenade No.4)
Oldrich Vlcek (violin)
Sdenek Zindel (viola)
Prague Chamber Orchestra
SUPRAPHON SU36432031 Trs 9-11
07:53am
JOPLIN
The Easy Winners
Boston Pops Orchestra
Arthur Fiedler (conductor)
DEUTSCHE GRAMMOPHON 00289 477 6115, CD2 Tr 14
08:03am
TCHAIKOVSKY
Variations on a Rococo Theme, op.33 (Theme & variations 1 & 2)
Stephen Isserlis (cello)
The Chamber Orchestra of Europe
John Eliot Gardiner (conductor)
VIRGIN CLASSICS VC7911342 Trs 2-4
08:12am
MOZART
Allegro from Piano Trio No.5 in C major, K.548
Kungsbacka Piano Trio
NAXOS 8.570519 Tr 6
08:09am
HAYDN
Aria (Hanne): Welche Labung fur die Sinne! (O how pleasing to the senses)
(from The Seasons)
Gundula Janowitz (soprano)
Wiener Symphoniker
Karl Böhm (conductor)
DEUTSCHE GRAMMOPHON 4239222, CD1 Tr 16
08:22am
SCHUBERT
Impromptu No.4, D.899
Imogen Cooper (piano)
OTTAVO OTRC78923 Tr 8
08:31am
DEBUSSY
Trois Melodies (Paul Verlaine)
Christopher Maltman (baritone)
Malcolm Martineau (piano)
HYPERION CDA67357 Trs 13-15
08:39am
JENKINS
Fantasy 11 in g (six-part consort)
Phantasm
AVIE AV2099 Tr 7
08:45am
GRIEG
Symphonic Dances, op.64, no.4
Halle orchestra
Sir John Barbirolli (conductor)
DUTTON LABORATORIES CDSJB 1012 Tr 12
08:57am
WALTER LEIGH
Allegro from Trio for flute, oboe & piano
Locrian Ensemble
EPOCH CDLX 7143 Tr 10
09:00am
TCHAIKOVSKY
Valse-Scherzo, op.34
Boris Belkin (violin)
New Philharmonia Orchestra
Vladimir Ashkenazy (conductor)
DECCA ELOQUENCE 476 7488 Tr 7
09:09am
ARVO PART
I am the true vine
Theatre of Voices
The Pro Arte Singers
Paul Hillier (director)
HARMONIA MUNDI HMU 907242 Tr 2
09:17am
FRANZ XAVER RICHTER
String Quartet in Bb major
Concentus musicus Wien
Nikolaus Harnoncourt (director)
TELDEC 2564 69852-6 Trs 11-13
09:31am
BEETHOVEN
Sonata No.22, op.54 in F major
Sviatoslav Richter (piano)
RCA RED SEAL 82876 59421 2 Trs 4-5
09:44am
MAHLER
Scherzo: Schattenhaft - Trio Fließend, aber nicht schnell
Tonhalle Orchestra Zurich
David Zinman (conductor)
RCA RED SEAL 88697 50650 2 Tr 3
09:55am
HAMELIN
Etude No.9 (d'apres Rossini)
Marc-Andre Hamelin (piano)
HYPERION CDA 67050 Tr 3.
Last on