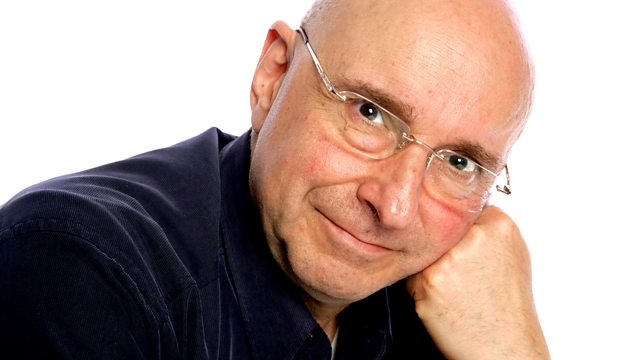 Rob Cowan
The complete Breakfast playlist is posted online after the programme has been broadcast.
7:03am
SCHUBERT
Marche militaire no.3 in E flat major (D.733 No.3)
Ykeda Duo
Lontano 2564 69074-4 Tr 4
7:09am
SIBELIUS
Khadra's Dance from Belshazzar's Feast - suite
Finnish Radio Symphony Orchestra
Jukka-Pekka Saraste (conductor)
RCA Victor Red Seal 09026-60434-2 Tr 7
7:15am
PURCELL
Sonata no.2 in E flat major from 10 sonatas in IV parts
Ricercar Consort
Ricercar RIC 217, CD2 Tr 9
7:22am
TAILLEFERRE
Pastorale
Emily Beynon (flute)
Andrew West (piano)
Hyperion CDA67204 Tr 5
7:27am
LULLY
Domine Salvum Regem
Monique Zanetti (soprano)
Arlette Steyer (soprano)
Marie Boyer (mezzo)
Les Arts Florissants
William Christie (director)
Harmonia Mundi HMC 901274 Tr 11
7:31am
BEETHOVEN
Fidelio Overture (Op.72b)
Chicago Symphony Orchestra
Fritz Reiner (conductor)
RCA Victor 09026 68976 2 Tr 10
7:38am
COUPERIN
Les Baricades Mistérieuses
Les Tours de Passe-passe
Alexandre Tharaud (piano)
Harmonia Mundi HMC 901956 Trs 1, 13
7:45am
MENDELSSOHN
No.14: Aria (Elijah): Lord God of Abraham, Isaac and Israel
No.15: Quartet (Angels): Cast thy burden upon the Lord
Bryn Terfel (bass: Elijah)
Quartet not identified
Orchestra of the Age of Enlightenment
Paul Daniel (conductor)
Decca 455 688-2, CD1 Tr 16, 17
7:50am
R STRAUSS arr. PRIHODA
Der Rosenkavalier - Waltz
Renaud Capuçon (violin)
Jérôme Ducros (piano)
Virgin Classics 374087 2 Tr 16
7:58am
SCHUBERT arr. WILHELM
The Bee (Op.13 No.9)
Renaud Capuçon (violin)
Jérôme Ducros (piano)
Virgin Classics 374087 2 Tr 2
8:03am
MOZART
Finale: Allegro assai from Concerto for piano and orchestra no.20 (K.466) in D minor
(cadenza by Beethoven)
Martha Argerich (piano)
Teldec 4509-98407-2 Tr 3
8:11am
HANDEL
Sonata for transverse flute and basso continuo (HWV.376) in B minor
Barthold Kuijken (transverse flute)
Wieland Kuijken (viola da gamba)
Robert Kohnen (harpsichord)
Accent ACC 10080 Trs 29-32
8:20am
TCHAIKOVSKY
Polonaise from Cherevichki
The USSR Academic Symphony Orchestra
Yevgeny Svetlanov (conductor)
Olympia OCD 136 Tr 4
8:26am
HAYDN
The Mermaid's Song
Lisa Milne (soprano)
Roger Vignoles (piano)
Hyperion CDA 67174 Tr 16
8:32am
SULLIVAN
Overture to the Mikado
Academy of St. Martin-in-the-Fields
Neville Marriner (conductor)
Philips 411 450-2 Tr 6
8:41am
CHOPIN
Scherzo: Allegro con brio - 2nd movement from the Cello sonata in G minor, Op.65
Alban Gerhardt (cello)
Steven Osborne (piano)
Hyperion CDA67624 Tr 6
8:47am
D'INDIA
Vostro fui
Cristiana Presutti (mezzo soprano)
Ensemble Poïésis
Aeon AECD 0869 Tr 13
8:52am
COATES
Halcyon Days from The Three Elizabeths
London 'Pops' Orchestra
Frederick Fennell (conductor)
Mercury 434 330-2 Tr 12
9:01am
BEETHOVEN
12 Variations in A major on the Russian Dance from Paul Wranitzky's ballet Das Waldmädchen (WoO.71)
Vladimir Ashkenazy (piano)
Decca 475 8401 Tr 34
9:13am
MYASKOVSKY
Allegro burlando from Symphony no.5 in D major, Op.18
Russian Federation Academic Symphony Orchestra
Evgeny Svetlanov (conductor)
Olympia OCD 735 Tr 3
9:18am
PALESTRINA
Sicut cervus desiderat
Choir of Westminster Cathedral
James O'Donnell (conductor)
Hyperion CDA66490 Tr 7
9:25am
TARTINI / KREISLER
Variations on a theme by Corelli
Nicola Loud (violin)
Elizabeth Burley (piano)
Chandos CHAN 8769 Tr 14
9:31am
MENDELSSOHN
No.42: Chorus: And then shall your light break forth (final chorus)
Edinburgh Festival Chorus
Orchestra of the Age of Enlightenment
Paul Daniel (conductor)
Decca 455 688-2, CD2 Tr 22
9:37am
RAVEL
Rapsodie Espagnole (vers. for orchestra)
Boston Symphony Orchestra
Seiji Ozawa (conductor)
Deutsche Grammophon 476 8501 Trs 12-15
9:53am
VERDI
Vieni a mirar from Simon Boccanegra (Act I)
Richard Tucker (tenor)
Eileen Farrell (soprano)
Columbia Symphony Orchestra
Fausto Cleva (conductor)
Sony Classical MHK 62357 Tr 5.
Last on