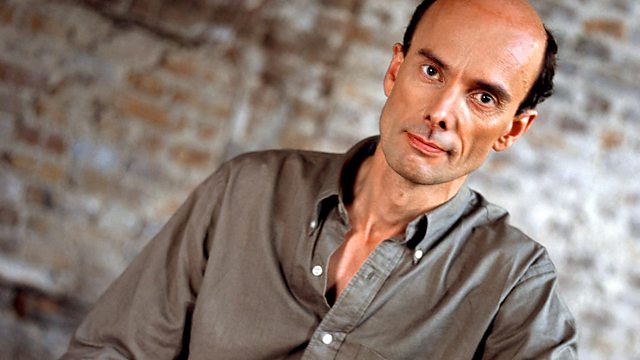 Martin Handley
Martin Handley starts the day with a refreshing mix of music.
7.03am
Beethoven: 7 Variations on God Save the King, WoO 78
Cédric Tiberghien (piano)
HARMONIA MUNDI HMC901775, T.7
7.12am
Mozart: Venite populi, K260
Concentus Musicus Wien
Nikolaus Harnoncourt (conductor)
TELDEC 3984-21885-2, CD10/T.1
7.18am
Boccherini: Menuetto
Mischa Maisky (cello)
Members of the Orpheus Chamber Orchestra
DEUTSCHE GRAMMOPHON 477 7442, CD1/T.2
7.23am
Strauss: An der schonen, blauen Donau
Vienna Philharmonic Orchestra
Lorin Maazel (conductor)
DEUTSCHE GRAMMOPHON 4394392, T.12
7.34am
Faure: Barcarolle No 2 in G, Op 41
Kathryn Stott (piano)
HYPERION CDA66911/4, CD2/T.2
7.41am
Praetorius: Magnificat secundi toni
The Cardinall's Musick
Andrew Carwood (director)
HYPERION CDA67669, T.6
7.51am
Satie: La belle excentrique
Orchestre du Capitole de Toulouse
Michel Plasson (conductor)
EMI CLASSICS 3 41444 2M T,16-19
8.03am
Brahms: Adagio from Violin Concerto in D, Op 77
Joshua Bell (violin)
The Cleveland Orchestra
Christoph von Dohnányi (conductor)
DECCA 4756175, T.7
8.13am
Pierre Francisque Caroubel: Bransle simple 1 & 2, Bransle de Poictou; Bransle de Montirande 1 & 2
(from Praetorius: Terpsichore, 1612)
Michel Piguet, Ricard Erig, Renate Hildebrand, Käthe Wagner, Charlotte Joss (flutes)
Anthony Bailes (lute)
Dieter Dyk (percussion)
EMI CDM7631442, T.8
8.19am
Albeniz: Navarra
Marc-André Hamelin (piano)
HYPERION CDA674767, CD2/T.9
8.28am
Handel: Alexander's Feast, concerto grosso
Akademie für Alte Musik Berlin
HARMONIA MUNDI HMX2901685, T.21-24
8.43am
Schumann: Mit Myrten und Rosen (Liederkreis, Op 24, No 9)
Thomas Hampson (baritone)
Wolfgang Sawallisch (piano)
EMI CDC5555982, CD1/T.9
8.47am
Nicolai Miaskovsky: Moderato (from Two Pieces for String Orchestra, Op 46/1
St Petersburg Chamber Ensemble
Roland Melia (conductor)
ASV CDDCA928, T.6
8.55am
John Ireland: Sea Fever
Jonathan Lemalu (bass baritone)
Roger Vignoles (piano)
EMI CLASSICS 5 75203 2, T.16
8.57am
Shostakovich: Romance from The Gadfly Suite
Janine Jansen (violin)
Royal Philharmonic Orchestra
Barry Wordsworth (conductor)
DECCA 475 011-2, T.5
9.04am
Johann Heinrich Schmelzer: Sonata in seven parts
The Dolmetsch Ensemble
FIDELIS FIDCD101, T.13
9.08am
Edgar Meyer: Concerto Duo Movement 4
Joshua Bell (violin)
Edgar Meyer (bass)
SONY CLASSICAL SK60864, T.13
9.13am
Verdi: Gia nella notte densa (Act I duet from Otello)
Katia Ricciarelli (soprano)
Placido Domingo (tenor)
Orchestra of the National Academy of Santa Cecilia
Gianandrea Gavazzeni (conductor)
RCA GD86534, T.9
9.24am
Gurney: The Singer
Susan Bickley (mezzo-soprano)
Iain Burnside (piano)
NAXOS 8.572151, T.20
9.29am
Gershwin: Rhapsody in Blue
Peter Donohoe (piano)
London Sinfonietta
Simon Rattle (conductor)
EMI CDC7479912, T.2
9.46am
Poulenc: Chanson a boire, pour voix d'hommes a cappella
Groupe Vocal de France
John Alldis (director)
EMI CDC7490862, T.28
9.51am
Beethoven: Bagatelle in A minor 'Fur Elise', WoO 59
Alfred Brendel (piano)
PHILIPS 00289 475 8511. CD2/T.4
9.55am
Antonio De Literes: El ayre soy; Surque halaguena
Al Ayre Espanol
Eduardo Lopez Banzo (director)
DEUTSCHE HARMONIA MUNDI 88697 281822, CD25/T.7.
Last on