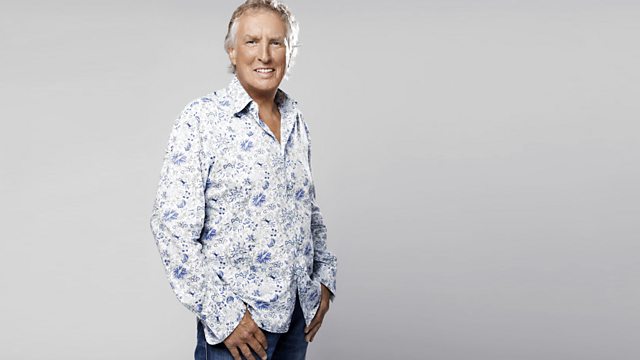 Soundscape of 1969
The final year of the swinging 60s was one of contrasts; from the optimism of Woodstock and the "giant leap for mankind", to the violence and despair of Vietnam and Londonderry. Meanwhile TV went colour, the Concorde and the Jumbo Jet were both unveiled and John Lennon went to bed.
Johnnie Walker introduces Radio 2's annual soundscape from 40 years ago. The audio collage of the news, music and media of the time includes the debut of Monty Python, the triumph of Tony Jacklin and De Gaulle's "au revoir". There was a Bad Moon Rising and Something In The Air...
Running order and songs:
All archive clips first broadcast in 1969 and were taken from BBC Archives.
All newspaper extracts were taken from contemporaneous sources and read by Bill Bingham.
* clips from The Woodstock Festival
Radio 1 jingle
Thunderclap Newman - Something In The Air
President Nixon - extract from his inaugural address
News clip - Riots at the London School of Economics
Squatters interviewed by Malcolm Billings at 144 Piccadilly
Concord (then without its 'e') and the Boeing 747 (Jumbo Jet) launched
Zager & Evans - In TheYear 2525
Vietnam War - actuality and news reports
Led Zeppelin - Whole Lotta Love
News clip - Charles Manson's gang kills Sharan Tate at Roman Polanski's house
Continuity announcement - BBC One "in colour"
Trail - Take 3 Girls, a new series on BBC One
News clip - republican Bernadette Devlin elected MP for mid-Ulster aged 21
Bernadette Devlin speaks, gunfire and actuality from N Ireland
Rolling Stones - Street Fighting Man
The Rolling Stones -Hyde Park concert following death of guitarist Brian Jones
News clip - Bogside, British troops
Soldier in Derry, Alec Douglas-Home (foreign secretary)
Creedence Clearwater Revival - Bad Moon Rising
Prince Charles Investiture
Radha Krishna Temple - Hare Krishna Mantra
Desmond Dekker & Aces - Israelites
Jimmy Young Show (Radios 1 & 2) - opening
Archies - Sugar Sugar
Jimmy Young Show recipe spot
News clip - Paul McCartney marries Linda Eastman
Beatles - The Ballad of John & Yoko
News clip - John Lennon and Yoko Ono "bed-in"
John Lennon speaks in Amsterdam
Plastic Ono Band - Give Peace A Chance
Monty Python's Flying Circus - opening sequence from the first show on BBC Two
News clip - Radio licence abolished, TV licence raised
Tony Jacklin wins the Open - commentary by Renton Laidlaw
Cricket v West Indies - commentary by Brian Johnston
Ryder Cup - Tony Jacklin v Jack Nicklaus
Simon & Garfunkel - The Boxer
News clip - Leeds United beat Arsenal to maintain their unbeaten run
Wimbledon - Ann Jones wins the Ladies' Final
Wimbledon - Rod Laver wins the Mens' Final
Monty Python's Flying Circus - "Nudge Nudge" sketch featuring Eric Idle
Jane Birkin & Serge Gainsbourg - Je T'Aime.Moi Non Plus
Evangelist Billy Graham on moral decay
Billy Preston - That's The Way God Planned It
News clip - Senator Edward Kennedy in car accident on Chappaquiddick Island
Kennedy speaks about leaving the scene of an accident
Marvin Gaye - Too Busy Thinkin' 'Bout My Baby
Duncan Sandys - Conservative politician attacks the Labour government
Harold Wilson - Prime Minister defends Labour's record
General De Gaulle - French president resigns
Fairport Convention - Si Tu Dois Partir
News clip - John Peel refused service owing to long hair
Radio 1 Club trail
2001: A Space Odyssey Theme (Also Sprach Zarathustra)
David Bowie - Space Oddity
Apollo XI actuality
Nixon speaks to returning astronauts
*Country Joe McDonald - The 'Fish' Cheer
*Country Joe McDonald - I-Feel-Like-I'm-Fixin'-To-Die-Rag
Vietnam War actuality
President Nixon on US troop withdrawal
*Jimi Hendrix - Star Spangled Banner
*Woodstock actuality - "hey people, we gotta Times"
Canned Heat - Going Up The Country
*Woodstock actuality - Chip Monck; "experiment"
*Woodstock actuality - rainstorm - crowd chant; "no rain"
*Santana - Soul Sacrifice
*Woodstock actuality - Chip Monck; "brown acid"
*Woodstock actuality - Grace Slick; "whole lotta orange"
*Woodstock actuality - John Morris; "flat blue acid"
*Woodstock actuality - "bummer bummer"
*Joe Cocker - With A Little Help From My Friends
*Woodstock actuality - Wavy Gravy; "breakfast in bed for '400,000"
Sly & The Family Stone - I Want To Take You Higher
*Woodstock actuality - Abbie Hoffman on John Sinclair
*Woodstock actuality - Country Joe; "marijuana"
*Woodstock actuality - Stephen Stills; "scared"
*Crosby, Sills & Nash - Suite Judy Blue Eyes
*Woodstock actuality - John Sebastian; "far out, whole city"
*Woodstock actuality - Stephen Stills; "three days man"
*John Sebastian - I Had A Dream
News clip - deaths at Altamont festival in California
Beatles - The End.