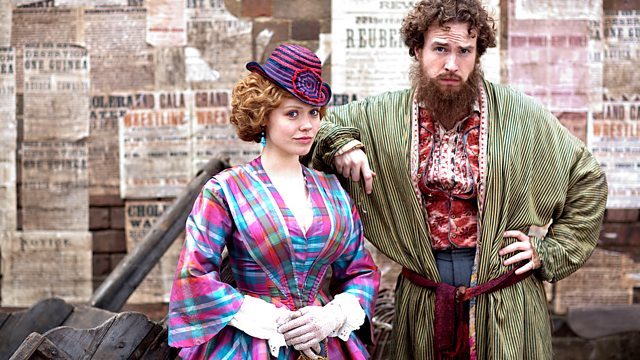 While Hunt is far away in the Holy Land, Fred sets out to fulfil his promise to look after Annie and prevent her from getting up to mischief. But Annie proves too hot to handle: before Fred knows what's what, she has seduced him. Hunt returns from the Holy Land none the wiser and is in fact so taken with Annie's improved deportment and education under Fred's care that he asks her to marry him.
Rossetti, meanwhile, receives an encouraging visit from Ruskin who, with Millais no longer on his books, is looking for a new protege. Rossetti is so excited by the prospect of Ruskin's patronage that he finally pops the question to Lizzie, who is as delighted with his proposal as Annie is with Hunt's.
In spite of newlywed Millais's smug insistence that in married life lies true happiness, both Hunt and Rossetti begin to waver at the prospect of what lies ahead. Could it be that Hunt prefers the idea of Annie the whore to that of Annie the wife? Is Rossetti capable of taking on responsibility and a conventional role in life? Fred watches on as his friends start to panic, but can he hold his own nerve and keep his affair with Annie a secret from his friend 'Maniac' Hunt?
Last on
Credits
| Role | Contributor |
| --- | --- |
| William 'Maniac' Hunt | Rafe Spall |
| Dante Gabriel Rossetti | Aidan Turner |
| John Millais | Samuel Barnett |
| Fred Walters | Sam Crane |
| John Ruskin | Tom Hollander |
| Lord Rosterley | Samuel West |
| Lizzie Siddal | Amy Manson |
| Annie Miller | Jennie Jacques |
| Mr Stone | Phil Davis |
| Mr Stone | Phil Davis |
| Mr Siddal | Ian Puleston-Davies |
| Mrs Siddal | Polly Kemp |
| Charlotte Siddal | Josie Farmiloe |
| Mrs Gerard | Richenda Carey |
| Executive Producer | Hilary Salmon |
| Executive Producer | Hilary Salmon |
| Executive Producer | Franny Moyle |
| Executive Producer | Franny Moyle |
| Producer | Ben Evans |
| Producer | Ben Evans |
| Director | Diarmuid Lawrence |
| Director | Diarmuid Lawrence |
| Writer | Peter Bowker |
| Writer | Peter Bowker |
| Mr Chadwick | Mark Benton |
| Charles Dickens | Mark Heap |
| Effie Ruskin | Zoe Tapper |
| Director | Paul Gay |
| Margaret | Maimie McCoy |
| Madame | Kath Burlinson |
Buy online
Buy online
Available on: DVD or Video download
From suppliers including: Amazon Video, BBC Store, iTunes