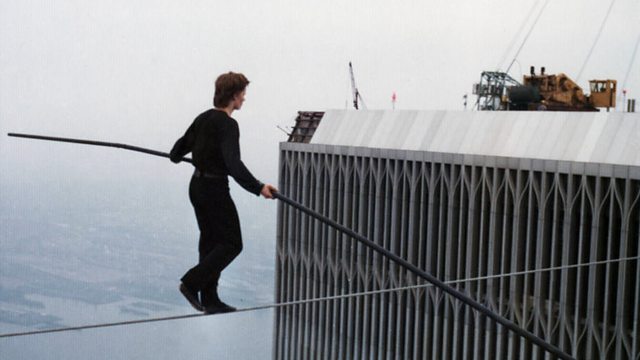 Documentary based on Philippe Petit's autobiographical book To Reach the Clouds: My High Wire Walk Between the Twin Towers.
In August 1974, French wire-walker Philippe Petit spent nearly an hour walking, dancing, kneeling and lying on a wire which he and his friends had strung in secret between the rooftops of New York's Twin Towers. Six years of intense planning, dreaming and physical training fell into place that morning.
Already an accomplished wire-walker, Petit had caught sight of an article about the planned construction of the Twin Towers while in a dentist's waiting room in 1968, and at that moment an obsession was born. He spent every waking moment since that day plotting the details of his walk (which he called 'le coup') and gathered a team of people around him to assist in the planning.
Petit's preparation was expert, thorough and top secret: he took precise measurements and even aerial photographs to help him construct models of the rigging; learned about the physical effects of the wind on the swaying of the buildings; even created fake ID cards and spied on office workers to plan how best to gain access to the towers without arousing suspicion. On that August morning, his dream was realised.
Using contemporary interviews, archival footage and dramatic reconstructions, the film tells the story of this extraordinary feat, and also of Petit's previous walks between the towers of Notre Dame in Paris, and of the Sydney Harbour Bridge.
Credits
| Role | Contributor |
| --- | --- |
| Himself | Philippe Petit |
| Himself | Jean Francois Heckel |
| Himself | Jean-Louis Blondeau |
| Herself | Annie Allix |
| Himself | David Forman |
| Himself | Alan Welner |
| Himself | Mark Lewis |
| Philippe - drama reconstructions | Paul McGill |
| Jean Louis - drama reconstructions | David Demato |
| Annie - drama reconstructions | Ardis Campbell |
| Jean Francois - drama reconstructions | Aaron Haskell |
| David - drama reconstructions | Shawn Dempewolff-Barrett |
| Alan - drama reconstructions | David Roland Frank |
| Director | James Marsh |