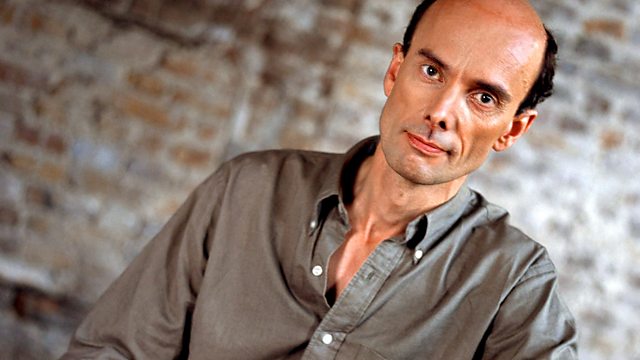 Martin Handley
The complete Breakfast playlist is posted after the programme has been broadcast.
07.03
POULENC
Capriccio for 2 pianos (le Bal masqué)
Pascal Rogé
Jean-Philippe Collard (pianos)
DECCA 443 9682 tr 1
07.09
HANDEL
Belshazzar – Overture
English Concert
Trevor Pinnock (director)
ARCHIV 447 2792 tr12
07.14
MARTINU
Czech Rhapsody
Czech Philharmonic Orchestra
Christopher Hogwood (conductor)
HYPERION CDA 67672 tr 7
07.25
BRITTEN
3 Folksongs –
The Plough Boy; The Salley Gardens; The foggy, foggy dew
Christopher Maltman (baritone)
Julius Drake (piano)
VIRGIN 5455252 trs 6-8
07.33
MOZART
Overture Der Schauspieldirektor K486
'The Impresario'
Staatskapelle Berlin, Otmar Suitner (conductor)
BERLIN CLASSICS 0032132BC tr 4
07.39
BRAHMS
Hungarian Dances 5 & 17
5) In F Sharp Minor; 17) in F Sharp Minor
Gűher Pekenel & Sűher Pekinel (piano)
WARNER CLASSICS 2564 619592 trs 11-12
07.44
HOWELLS
Take him, Earth, for Cherishing
Gabrieli Consort
Paul McCreesh (conductor)
DG 477 6605 tr 12
07.55
SHOSTAKOVICH
Hamlet Suite Op.32a
Gothenburgh Symphony Orchestra,
Neeme Jarvi (conductor)
DG 459 4152 trs 5, 8
08.03
LUTOSLAWSKI
Paganini Variations(arr. Mart Ptaszynska)
Safri Duo
The Slovak Piano Duo
CHANDOS CHAN 9398 tr 1
08.09
VIVALDI
Cara sorte di chi nata
(from La Verita in Cimento)
Magdlena Kozena (mezzo – Rustena)
Venice Baroque Orchestra
Andrea Marcon (director)
ARCHIV 477 8096 tr 10
08.14
MANUEL DE FALLA
Danse Espagnole
Arabella Steinbacher (violin)
Peter von Wienhardt (piano)
ORFEO C 686 061A tr 4
08.19
MACMILLAN
A New Song
The Choir of Westminster Cathedral,
Andrew Reid (organ)
Martin Baker (conductor)
HYPERION CDA 67219 tr 1
08.24
BOCCHERINI/BERIO (orch. Berio)
Quattro versioni originali della
"Ritirata notturna di Madrid"
Orchestra Sinfonica di Milano Giuseppe Verdi,
Riccardo Chailly (conductor)
DECCA 476 2830 tr 3
08.32
SCHUMANN
Toccata in C Op.7
Sviatoslav Richter (piano)
DG 477 8122 CD4 tr 6
08.40
BACH
Cantata BWV 168 Tue Rechnung! Donnerwort
Yukari Nonoshita (soprano)
Robin Blaze (counter-tenor)
Makoto Sakurada (tenor)
Peter Kooij (bass)
Bach Collegium Japan
Masaaki Suzuki (conductor)
BIS SACD 1671 trs 6-11
08.54
WAGNER
Morgenlich leuchtend from Die Meistersinger
Jonas Kaufmann (tenor)
Prague Philharmonic Orchestra
Marco Armiliato (conductor)
DECCA 475 9966 tr 11
09.03
MONTEVERDI
L 'Orfeo – Toccata
Le Concert D'Astrée
Emmanuelle Haim (conductor)
VIRGIN 5456422 CD1 tr 1
09.05
SCHOECK
Serenade
for Oboe, Cor Anglais & Strings Op.27
Silvia Zabarella (oboe)
Martin Zűrcher (cor anglais)
Musikkollgegium Winterthur
Werner Andreas Albert (conductor)
CPO 999 3372 tr 5
09.10
REICH
Electric Counterpoint – Fast final movement
Pat Metheny (guitar)
NONESUCH 7559 794512 CD8 Tr 6
09.15.
BUXTEHUDE
Prelude in G Minor BuxWV 149
Marie-Claire Alain
(organ of St Martin's Church, Groningen)
ERATO ECD 75370 CD1 tr1
09.22.
MENDELSSOHN
Serenade & Allegro Giocoso in B Minor Op.43
Stephen Hough (piano)
City of Birmingham Symphony Orchestra
Lawrence Foster (conductor)
HYPERION CDA66969 trs 9
9.37
David POPPER
Gavotte, Op.23
Steven Isserlis (cello)
Stephen Hough (piano)
BIS CD 1562 tr 23
9.42
BOCCHERINI (arr. Goltermann)
Minuet
Steven Isserlis (cello)
Stephen Hough (piano)
BIS CD 1562 tr 11
09.47
PERGOLESI
Magnificat
Noemi Kiss (soprano)
The Choir of New College Oxford,
The Academy of Ancient Music,
Edward Higginbottom (conductor)
ERATO 0927466842 CD2 trs 4-7
Last on