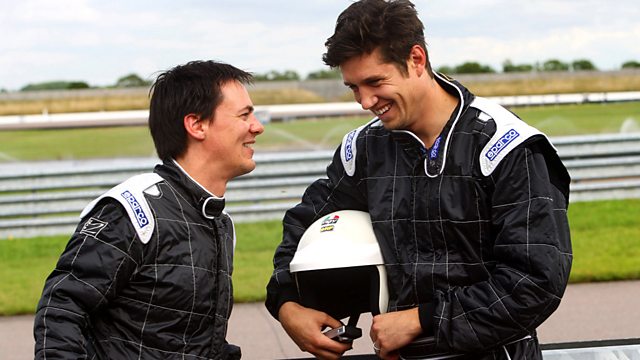 Friday: The results of the driving challenge
Friday 14th August 2009
The Chris Moyles Show with Vernon
06:30 - News and Sport
06:35 – Vernon and the team are broadcasting live from Edinburgh, the home of Scott Mills the Musical. Vernon recaps on his cameo role last night and is still excited about it all
07:00 - News and Sport
07:15 – Dave gives his report of the Musical shenanigans recorded live last night at Pleasance in Edinburgh
07:30 - News and Sport
07:40 – Vernon and Dave find out who was the better driver from their trip to Rockingham on Wednesday. It was a close call, but overall Vernon was was the winner and, if there was no-one else available, could be Schumacher's replacement.
08:00 - News and Sport
08:05 – Vernon rubs it in that he was victorious at the race track
08:20 – We play clips of Vernon's big moment treading the boards in Scott Mills The Musical. We hear his rendition of MC Hammer's 'Can't Touch This' and his venture into a bit of freestyle breakdancing. It is quite impressive.
08.30 – News and Sport
08.40 – The registration doors of Car Park Catchphrase are officially open! We hear one of the best moments from yesteryear and are all looking forward to more golden moments from next week onwards.
09:00 - The Golden Hour part one - 1998
Air – 'Kelly Watch The Stars'
Barenaked Ladies – 'One Week'
5 – 'Everybody Get Up'
The Verve – 'Sonnet'
Fat Les – 'Vindaloo'
All Saints – 'Under The Bridge'
The Beautiful South – 'Perfect 10'
09:30 - News and Sport
09:35 - The Golden Hour part two – Vernon In The Mix
The Beloved – 'Sweet Harmony'
Ultra Nate - 'Free'
Energy 52 - 'Café Del Mar'
The Prodigy - 'Out Of Space'
Josh Wink - 'Higher State Of Consciousness'
Paul Johnson - 'Get Get Down'
Bob Marley vs. Funkstar Deluxe - 'Sun Is Shinin''
Sash - 'Encore Une Fois'
Last on