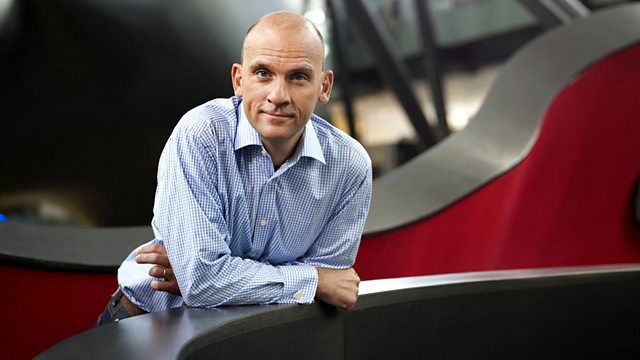 Bobo Stenson Trio
Jez Nelson presents another chance to hear Swedish pianist Bobo Stenson's trio recorded at the Royal Northern College of Music in October in 2008. The trio play music from their album Cantando including compositions by Argentinian tango master Astor Piazzolla and British baroque composer Henry Purcell. Joining Stenson on stage are Anders Jormin on bass and Jon Falt on drums.
Bobo Stenson was born in Stockholm in 1944 and has built a reputation as a highly regarded figure with a distinctly European sound. His 38-year relationship with leading jazz label ECM has produced a number of piano trio albums, often drawing inspiration from various folk and classical music.
Playlist:
Excerpt from Ray's Face by the Bobo Stenson Trio (details below)
Ginga Carioca composed by Hermeto Pascoal, performed by Huw Warren and his band and recorded at Turner Sims, Southampton on May 7, 2009
Line up:
Huw Warren (piano)
Dudley Philips (double bass)
Iain Ballamy (saxophone)
Martin France (drums)
Maria Pia De Vito (vocals)
http://website.lineone.net/~huw.warren/
Bobo Stenson Trio recorded at the Royal Northern College of Music, Manchester on October 25, 2008
Line up:
Bobo Stenson (piano)
Anders Jormin (double bass)
Jon Fält (drums)
Set one:
1) Seli (Anders Jormin)
2) El Mayor (Silvio Rodríguez)
3) M (Anders Jormin)
4) A Fixed Goal (Ornette Coleman)
Peggy Sutton in conversation with Bobo Stenson
Set two:
5) Olivia (Silvio Rodríguez)
6) Chiquilin de Bachin (Astor Piazzolla/Horacio Ferrer)
7) Music For A While (Henry Purcell)
8) Ray's Face (Ornette Coleman)
www.myspace.com/bobostenson
Recommended further listening:
Artist: Bobo Stenson Trio
Album: Cantando
Label: ECM (2008)
Shortform composed by Martin Speake and recorded in an exclusive Jazz on 3 session by his Change of Heart group.
Line up:
Martin Speake (saxophone)
Bobo Stenson (piano)
Steve Watts (bass)
Jeff Williams (drums)
http://www.martinspeake.co.uk/.
Last on