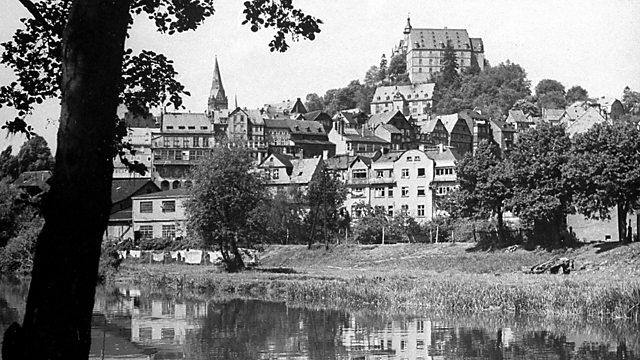 Writer Stephen Plaice takes a journey through the German cities where the great philosophers of the 19th century lived and worked, exploring the impact that these thinkers have had on each stage of his life. Along the way, he reflects on the Germany which has been locked away behind the two World Wars, and examines our contemporary prejudices towards Germans.
Stephen revisits Marburg, where he was a student 35 years ago. He reconsiders the subjective philosophy of Fichte and of the nature philosopher Schelling, whose work he studied in the 1970s, with particular reference to Schelling's idea of the World Soul.
These thinkers provided the philosophic basis for German Romanticism. Stephen relates how, as a young man, seeing the world through the lens of Romanticism, he was in for some pretty sharp collisions with reality.
The 'magic theatre' behind the mysterious black door in the building in which he rents a room as a student turns out to be Marburg's secret gay scene. Revisiting the building nearly four decades later, he discovers it has become another cultural ghetto: a smoker's pub.
Stephen also recalls a house party in the forests near Marburg back in the early 1970s, where he had a strange encounter with a young woman who seemed to embody Schelling's idea of the World Soul. Like a character in a fairytale, she appears to have sprung from the forest itself. However, the inherent romanticism in their meeting is later tempered by the appearance of the woman's husband.
Last on