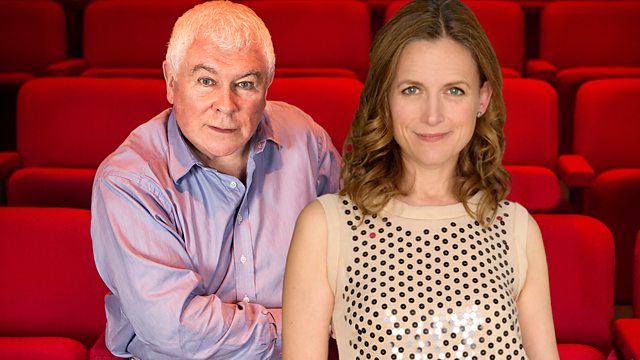 29/07/2009 John Wilson, Valery Gergiev and Mali Latino
Sean Rafferty presents a selection of music and guests from the arts world.
Conductor John WIlson talks about his MGM Musicals Prom and Sean joins Maestro Valery Gergiev with bass-baritone Evgeny Nikitin at the Royal Opera House as the Mariinsky Opera production of Wagner's Ring Cycle opens in London.
Plus performance in the studio from Afro-Jazz ensemble Mali Latino.
17:02
IRELAND arr. Mackerras
Scherzo: The Brumbies (from The Overlanders Suite)
Halle Orchestra
John Wilson (conductor)
HALLE CDHLL 7523
Track 7
4'14
17:07
HAYDN
Piano Sonata No. 41 in B flat major, Hob. XVI.41
Marc-Andre Hamelin (piano)
Hyperion CDA67554
Tracks 9-10
9'42
17.17
Singin in the Rain: The Broadway Melody Ballet (excerpt)
Gene Kelly and the MGM Studio Orchestra
Turner 8522262
Track 23
4'16
17.25
Meet me in St. Louis: The Trolley Song
Judy Garland and the MGM Studio Orchestra and Chorus
Turner 8360212
Track 10
3'58
17.34
Brigadoon: Heather on the Hill
Gene Kelly and the MGM Studio Orchestra
Turner 8527652
Track 8
6'31
17.42
SCHUBERT
Sonatensatz in B flat Major
David Trio
ALTARA ALT1038
CD 1 Track 5
10'21
17.54
GRIEG
Den blonde Pige (The Fair-haired Maid) [first version], EG130
Monica Groop (mezzo-soprano)
Roger Vignoles (piano)
BIS-CD-1757
Track 5
4'15
18.00 NEWS
18.03
PURCELL
Welcome, welcome glorious morn
Rogers Covey Crump (tenor)
The King's Consort
Robert King (conductor)
Hyperion KING2
Track 1
3'57
18.07
BRUCKNER
Rondo in C major
Fine Arts Quartet
Naxos 8.570788
Track 10
5'52
18.15
WAGNER
Die Walkure: Ride of the Valkyries (Act 3 opening)
Bayreuth Festival Orchestra
Daniel Barenboim (conductor)
Warner 2564 620912
CD6 Track 1
4'49
18.26
WAGNER
Das Rheingold: Rheingold! Rheingold! (end)
John Tomlinson (Wotan)
Graham Clark (Loge)
Hilde Leidland, Annette Kuttenbaum, Jane Turner (Rheinmaidens)
Bayreuth Festival Orchestra
Daniel Barenboim (conductor)
Warner 2564 62091-2
CD 2 Track 23
3'25
18.34
MUSSORGSKY
Boris Godunov (1872 version): Act 3 Scene 1
(Ah it's you my father / Captivate the pretender with your beauty / Your eyes have started to sparkle with a hellish flame)
Evgeny Nikitin (Rangoni)
Olga Borodina (Marina)
Mariinsky
Valery Gergiev (conductor)
PHILIPS 462 2302
CD 4 Tracks 17-19
8'47
18.45
FASCH
Concerto in D
Giuliano Sommerhalder (trumpet)
Kammerorchester Basel
DHM 88697446412
Tracks 7-9
5'47
18.52
LIVE MUSIC
Voyage
Alex Wilson (piano)
Ahmed Fofana (balafon)
Madou Sidiki Diabaté (kora)
5'11
19.02
LIVE MUSIC
Solo Kora
Madou Sidiki Diabaté (kora)
1'53
19.09
LIVE MUSIC
Mali Gundo
Alex Wilson (piano)
Ahmed Fofana (balafon)
Madou Sidiki Diabaté (kora)
4'43
19.15
MOZART
Rondo in C major
Francois Leleux (oboe)
Camerata Salzburg
SONY 88697365482
Track 1
5'42
19.22
TCHAIKOVSKY
Valse de fleurs from The Nutcracker Op. 71
Royal Liverpool Philharmonic Orchestra
Vasily Petrenko (conductor)
AVIE AV2139
Track 20
7'08
Last on