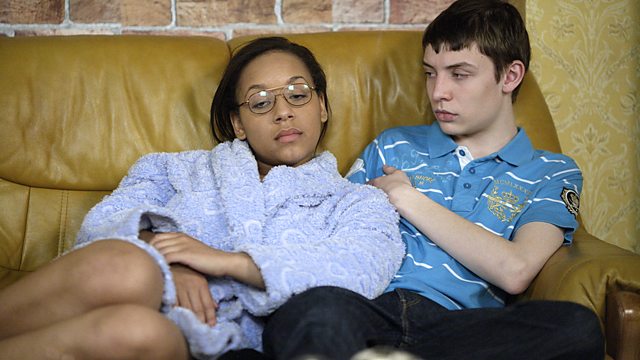 28/07/2009
Zainab asks about Amira's family. Distraught, Amira tells Christian her dad's in prison awaiting trial for fraud, and the rest of the family won't talk to her; when Zainab finds out there won't be a wedding. Amira wants to tell Syed, but Christian persuades her to go straight to Zainab. Zainab's angry but at the party overhears Amira telling Syd how much she loves Syed. Zainab tells Amira there are worse things than shame, Amira makes Syed happy and they should be together. Syed argues with Christian and Christian leaves. Later, drunk and upset, Christian's approached by a man. Back at Christian's flat the man reveals he isn't gay, but someone's got to clean up the filth. He attacks Christian. As Syed and Amira continue to enjoy their engagement party - Christian lies alone beaten and bloodied.
Libby's lack of interest in her party annoys Denise. Darren tells Libby to throw away her dad's card. Liz brings Libby a model that Owen, her dad, has made to symbolise his sobriety. Liz has a visiting order for Libby, she wants Libby to see for herself that Owen's a changed man. Darren and Libby sleep together for the first time. Libby calls Liz and tells her to book the visit.
Ronnie's angry that Archie's back, but can't persuade Roxy to leave Walford with her. Ronnie asks Jack to buy her share of the club. The two talk and realise that Roxy's lied to them both; neither of them are seeing someone new. Ronnie thinks it's too late for them. Peggy tells Archie she'll never take him back. Ronnie moves back into the Vic deciding the others can't stand up to Archie without her.
Ryan steals money from Janine's bag. Janine flirts with Ryan but gets nowhere; he only has eyes for Ronnie.
Last on
Credits
| Role | Contributor |
| --- | --- |
| Christian Clarke | John Partridge |
| Syed Masood | Marc Elliott |
| Amira Shah | Preeya Kalidas |
| Zainab Masood | Nina Wadia |
| Masood Ahmed | Nitin Ganatra |
| Tamwar Masood | Himesh Patel |
| Libby Fox | Belinda Owusu |
| Liz Turner | Kate Williams |
| Darren Miller | Charlie G Hawkins |
| Peggy Mitchell | Barbara Windsor |
| Archie Mitchell | Larry Lamb |
| Ronnie Mitchell | Samantha Womack |
| Jack Branning | Scott Maslen |
| Denise Wicks | Diane Parish |
| Lucas Johnson | Don Gilet |
| Syd Chambers | Nina Toussaint-White |
| Bradley Branning | Charlie Clements |
| Jane Beale | Laurie Brett |
| Janine Butcher | Charlie Brooks |
| Ryan Malloy | Neil McDermott |
| Billy Mitchell | Perry Fenwick |
| Patrick Trueman | Rudolph Walker |
| Director | David Tucker |
| Executive Producer | Diederick Santer |