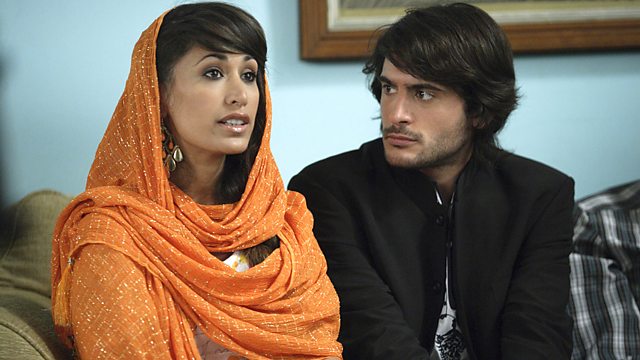 27/07/2009
It's Libby's 18th birthday. Denise has taken the day off and bans Libby from anything academic. Libby's shocked when she opens a birthday card, but pretends it's from Tamwar. Someone leaves a red rose on the doorstep and later more appear. Worried, Libby wants to talk to Darren alone but her whole family are waiting in the park with a picnic.
Libby's angry when Darren reveals he's booked a hotel for the night. Later, Libby rips up the roses and feels bad when Denise tells her they were from Patrick. Libby still can't bring herself to show Denise the mystery card. Darren tells Libby he booked the hotel because it had a connection to Jane Austen, he'll sleep on the floor.
Libby shows Darren the card – it's from her father and reads 'see you very soon'. Darren doesn't think she should worry, her dad's still in prison. Liz, Libby's grandmother, arrives and tells Libby that her father wants to see her.
Zainab and Amira disagree about engagement party plans. Amira asks Christian to help, but Syed tells him he's not welcome. The Imam talks to Amira and Syed about marriage stressing the importance of integrity. Syed walks out. Masood reassures Syed that it's normal to be anxious. For the first time, Masood tells Syed he's proud of him. Back inside, Syed tells Amira he's going to be the best husband she could have.
Ronnie visits the square. Peggy arrives home and asks about Ronnie's new man. Ronnie realises Roxy's lied to everyone, Roxy claims she did it because Jack told her about the condoms. Ronnie's shocked when Archie walks in and reveals that Roxy and Amy are living with him.
Bianca's fed up with Ryan, but Whitney wants him to stay. Janine offers Ryan a room in her flat.
Last on
Credits
| Role | Contributor |
| --- | --- |
| Libby Fox | Belinda Owusu |
| Liz Turner | Kate Williams |
| Ronnie Mitchell | Samantha Womack |
| Roxy Slater | Rita Simons |
| Archie Mitchell | Larry Lamb |
| Peggy Mitchell | Barbara Windsor |
| Christian Clarke | John Partridge |
| Syed Masood | Marc Elliott |
| Amira Shah | Preeya Kalidas |
| Zainab Masood | Nina Wadia |
| Masood Ahmed | Nitin Ganatra |
| Tamwar Masood | Himesh Patel |
| Denise Wicks | Diane Parish |
| Lucas Johnson | Don Gilet |
| Patrick Trueman | Rudolph Walker |
| Darren Miller | Charlie G Hawkins |
| Whitney Dean | Shona McGarty |
| Ryan Malloy | Neil McDermott |
| Janine Butcher | Charlie Brooks |
| Bianca Jackson | Patsy Palmer |
| Liam Butcher | James Forde |
| Jack Branning | Scott Maslen |
| Imam Ali | Emilio Doorgasingh |
| Director | David Tucker |
| Executive Producer | Diederick Santer |