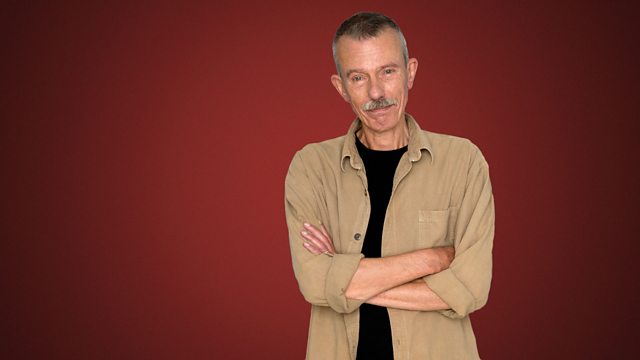 30/07/2009
Including:
1.01am
Debussy, Claude (1862-1918): Trois chansons de Charles d'Orleans
1.09am
Debussy, arr. Gottwald: Les Anglus
1.13am
Trad., arr. Swingle, Ward (b.1952): L 'amour de moi
1.17am
Poulenc, Francis (1899-1963): Un soir de neige
1.26am
Berlioz, Hector (1803-1869), arr. Gottwald: Sur les Lagunes (Les nuits d'ete, Op 7)
1.33am
Jolivet, Andre (1905-1974): Epithalame after the Song of Songs
Swedish Radio Chorus
Martina Batic (conductor)
1.56am
Kuula, Toivo (1883-1918): Wedding March, Op 3b No 2
Eero Heinonen (piano)
2.00am
Sibelius, Jean (1865-1957): Sonatina No 1 in F sharp minor, Op 67
Eero Heinonen (piano)
2.08am
Tchaikovsky, Piotr Il'yich (1840-1893): Symphony No 5 in E minor, Op 64
Bergen Philharmonic Orchestra
Dmitri Kitajenko (conductor)
3.01am
Scarlatti, Domenico (1685-1757), arr. Timothy Kain: Sonata in F, K518
Bach, Johann Sebastian (1685-1750), arr. Fiona Walsh: Fugue in G minor, BWV542
Guitar Trek
3.12am
Merkel, Gustav (1827-1885): Wer nur den lieben Gott lasst walten (Choral-Studien, Op 116)
Martin Poruba (organ)
3.24am
Power, Leonel (d.1445): Missa Alma redemptoris mater
Hilliard Ensemble
3.44am
Fasch, Johann Friedrich (1688-1758): Overture a due chori in B flat
Cappella Coloniensis
Hans-Martin Linde (conductor)
4.09am
Haydn, Joseph (1732-1809): Quartet in C minor, Op 17 No 4
Quatuor Mosaiques
4.27am
Mozart, Wolfgang Amadeus (1756-1791): Symphony No 4 in D, K19
BBC Scottish Symphony Orchestra
Osmo Vanska (conductor)
4.40am
Leclair, Jean-Marie (1697-1764): Violin Concerto in F, Op 10 No 4 (1745) (excerpt)
Genevieve Gilardeau (violin)
Tafelmusik
Jeanne Lamon (conductor)
4.48am
Ketting, Piet (1905-1984): Deuntjen
Netherlands Chamber Choir
Hans van den Hombergh (conductor)
4.54am
Glinka, Mikhail Ivanovich (1804-1857): Overture (Ruslan and Lyudmila)
Edmonton Symphony Orchestra
Uri Mayer (conductor)
5.01am
Chopin, Fryderyk (1810-1849): Scherzo No 2 in B flat, Op 31
Ronald Brautigam (fortepiano)
5.10am
Fitelberg, Grzegorz (1879-1953): Rapsodja polska (Polish Rhapsody), Op 25 (1913)
Polish National Radio Symphony Orchestra
Jerzy Salwarowski (conductor)
5.29am
Mozart, Wolfgang Amadeus (1756-1791): Piano Concerto in C, K467
Mihaela Ursuleasa (piano)
National Polish Radio Symphony Orchestra
Gabriel Chmura (conductor)
5.58am
Beethoven, Ludwig van (1770-1827): Trio in B flat for clarinet, cello and piano, Op 11
Teodor Moussev (piano)
Roussi Radev (clarinet)
Tatyana Deneva (cello)
6.22am
Scarlatti, Alessandro (1660-1725): Toccata per cembalo in G minor/major
Rinaldo Alessandrini (harpsichord, Franciscus Debbonis, Roma 1678)
6.30am
Lassus, Orlande de (1532-1594): Domine Dominus noster; Adoramus te Christe; In pace, in idipsum; Tibi laus, tibi gloria; Ad te levavi oculos meos
The King's Singers
6.45am
Gabrieli, Andrea (1532/3-1585): Diminution on Orlando Lassus's Susanne un jour
Anne-Catherine Bucher (organ)
6.49am
Vivaldi, Antonio (1678-1741): Concerto in C, RV444
Il Giardino Armonico.
Last on