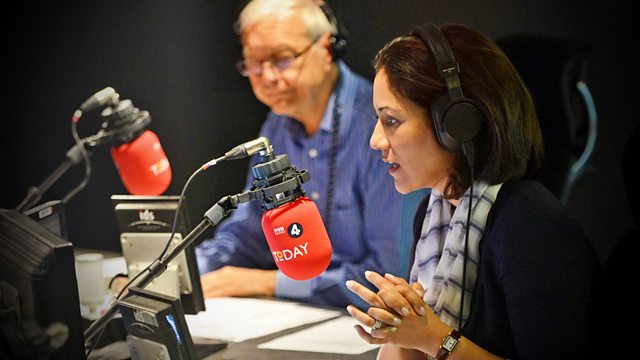 01/08/2009
Presented by James Naughtie and Evan Davis.
Ben Shore reports on the concerns about City investment expressed by Treasury minister Lord Myners.
Kasra Naji, a special correspondent for BBC Persian Television, explains the problems with reporting accurately on news in Iran.
Karen Allen reports on the problems facing South African President Jacob Zuma.
A senior Tory MP has asked the Home Secretary whether al-Qaeda sympathisers were mistakenly recruited by MI5. Tim Iredale reports.
Writer Bonnie Greer discusses the race row which was triggered by the arrest of black Harvard professor Henry Louis Gates, and the cost to President Obama of weighing in on such a sensitive issue.
David Horspool, history editor of the Times Literary Supplement, and journalist Peter Hitchens reflect on 1,000 years of troublemaking.
Thought for the Day with Canon David Winter.
Junior doctor Max Pemberton and David Grantham, Head of Programmes at NHS Employers, discuss new European rules on working hours for doctors.
Peter Montagnon of the Association of British Insurers discusses whether the City is being responsible with its investments.
Jazz and pop artist Curtis Stigers explains how the wonder of MGM musicals will be recreated at the BBC Proms.
Two Iranian protesters, Reza and Ali, and Dr Mehrdad Khonsari discuss the future of the Iranian government.
Francisco Lara reflects on the life of former Philippine leader Corazon Aquino, Asia's first female president, who has died at the age of 76.
Frances Crook, director of the Howard League for Penal Reform, considers how the number of serious offences can be reduced.
Historian Guy Walters and Ben Barkow, director of the Wiener Library, discuss the Nazi-hunter and Jewish hero Simon Wiesenthal.
Last on