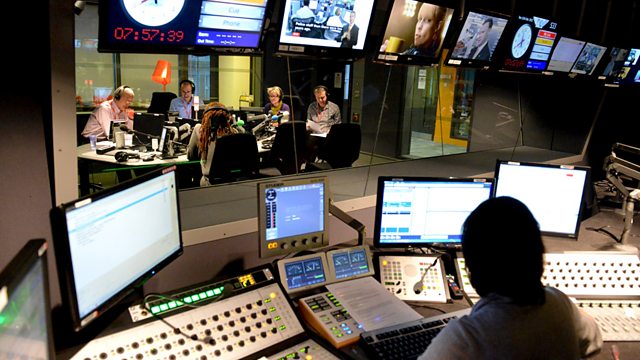 29/07/2009
Presented by Evan Davis and Sarah Montague.
Peter Kruse of Vestas says slow progress at the planning stage is damaging the on-land wind turbine industry.
Frank Gardner reports on the fate of two British private security guards held hostage in Iraq.
Reporter Angus Stickler visits Homerton Hospital in Hackney to discover how it is coping with swine flu.
Sarah Woolnough of Cancer Research and Kevin Melnyk of the Sunbed Association discuss if sunbeds can be used safely.
Correspondent Katharine Carpenter reports on claims that the way in which a council reclaimed land from an old steel works caused birth defects.
Bob Reitemeier of the Children's Society discusses the warnings of serious staffing shortages and a lack of leadership blighting social services in England.
Vice president of the Royal Meteorological Society Philip Eden explains why the 'barbecue summer' predicted in April is no more.
Thought for the Day with Rabbi Laura Janner-Klauser, of Alyth Gardens Synagogue.
Nicolas Bwakira, the African Union's special envoy to Somalia, and Yusuf Garaad Omar, head of the BBC's Somali Service, discusses the threat to the UK from Somalia.
Anas Altikriti, chief executive of the Cordoba Foundation (which works on conflict resolution) discusses the current hostage situations in Iraq.
Baroness Margaret Prosser, who chairs the Women and Work Commission, and Vivienne Brown, of the Institute of Career Guidance, discuss how the gender divide at work can be tackled.
Nicola Stanbridge reports on the opening of a rock and roll library by The Clash guitarist Mick Jones.
Mike Thomson reports on how donations from Today listeners have been used to help people in Congo.
Phil Mercer reports on the rescue of an Australian woman after being stuck in her toilet for a week.
Could Germany have won World War II if it wasn't for Hitler's ideological obsessions? Author Andrew Roberts reflects on the strategic and tactical mistakes the Third Reich made.
Writer and illustrator Matthew Rice explains why he has produced a guide to help bluff through a challenging architectural discussion.
John Payne, of the ExtraCare Charitable Trust and writer Stanley Johnson discuss the role of elderly citizens in the UK.
Last on
John Humphrys meets John Lydon