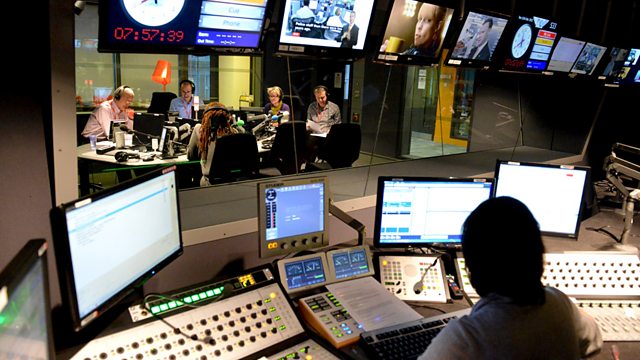 28/07/2009
Presented by Sarah Montague and James Naughtie.
Children's charity Barnardo's is calling for an investigation into the methods used by high-interest lenders. Martin Narey, chief executive of Barnardo's, discusses whether companies were deliberately targeting 'desperate' people.
David Frost, of the British Chambers of Commerce, discusses what contingency plans need to be made to cope with swine flu.
Robert Piggott reports on the summer camp designed to encourage children not to adopt religious beliefs.
Jerome Church, General Secretary of the British Limbless Ex-Servicemen's Association (Blesma), discusses the way compensation is awarded to soldiers.
Labour MP Andrew Dismore and Chief Constable Meredydd Hughes discuss MPs' call for 'no surprises' protest policing.
Jon Kay reports on a lucrative 'witch' vacancy at tourist site Wookey Hole in Somerset.
Thought for the Day with Dr Indarjit Singh, director of the Network of Sikh Organisations.
Rajini Vaidyanathan reports on why customers are often getting half the broadband speed of that advertised. Ed Richards, Chief Executive of Ofcom, discusses the results of a survey.
Labour MP Eric Joyce and former soldier Simon Weston discuss the system of compensation for injured soldiers.
Reporter Jack Izzard visits Canary Wharf in London to discuss whether jogging is really good for you. Editor of Runner's World magazine Andy Dixon and comedian Arthur Smith discuss the pitfalls of intensive exercise.
Professor Michael Reiss and MP Dawn Primarolo, the minister for children and young people, discuss whether the primary curriculum should include evolution.
Jonah Fisher reports on the protests spreading to many parts of South Africa.
Labour MP Tom Watson discusses how Whitehall can use Twitter successfully.
Afghan politician Malalai Joya discusses her opinion that democracy in Afghanistan is a facade.
Eight Afghan security guards have been killed by a bomb blast in Helmand. David Loyn reports on the remote-controlled blast in Gereshk district that comes just weeks before presidential and provincial council elections.
Last on