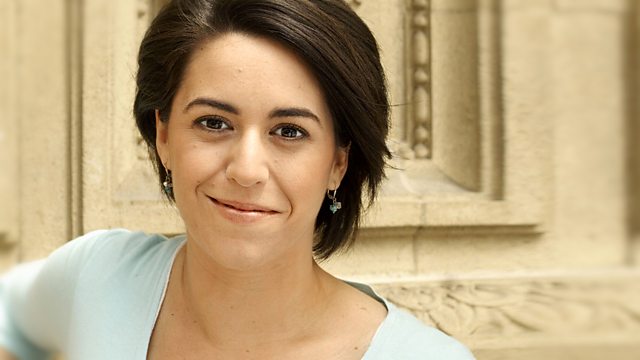 Journeys
Suzy Klein takes a musical trip through landscapes familiar and unfamiliar, real and imaginary. Her guest is the much-travelled BBC security correspondent Frank Gardner. Featured composers include John Adams, Vaughan Williams and Berlioz.
Adams: Short Ride in a Fast machine
City of Birmingham Symphony Orchestra
Simon Rattle (conductor)
EMI 5034032, Tr 6
Dur: 4m14s
Schubert: Der Wegweiser (Winterreise)
Dietrich Fischer-Dieskau (baritone)
Alfred Brendel (piano)
PHILIPS 411 463 2, Tr 20
Dur: 4m23s
Honegger: Pacific 231
New York Philharmonic
Leonard Bernstein (conductor)
SONY SMK 60695, Tr 4
Dur: 6m1s
Gluck: J'ai perdu mon Euridice (Orphee et Euridice - Act 3)
Richard Croft (tenor)
Les Musiciens du Louvre
Marc Minkowski (conductor)
ARCHIV 471 582 2 DISC 2, Tr 6
Dur: 4m20s
Holst: Second Dance (Beni Mora)
London Symphony Orchestra
Adrian Boult (conductor)
LYRITA SRCD 222, Tr 4
Dur: 3m51s
Sibelius: Intermezzo (Symphony No 5)
London Symphony Orchestra
Colin Davis (conductor)
RCA 09026 61963 2, Tr 5
Dur: 8m15s
Dvorak: Scherzo (Symphony No 9)
Czech Philharmonic Orchestra
Vaclav Neumann (conductor)
SUPRAPHON SU 3705-2 032 DISC 2, Tr 5
Dur: 8m1s
Waldteufel: Waltz: Les patineurs (The Skater's Waltz)
Monte Carlo Philharmonic Orchestra
Willi Boskovsky (conductor)
EMI CDM 7 63 136 2, Tr 22
Dur: 7m49s
Paul Taffanel: Andante molto espressivo
Victoria Soames Samek (clarinet)
John Flinders (piano)
CLARINET CLASSICS CC0050 DISC 2, Tr 8
Dur: 1m40's
Nicolo Corradini: Spargite flores
Gonzaga Band:
Faye Newton (soprano)
Jamie Savan (cornett)
Richard Sweeney (theorbo)
Steven Devine (organ)
CHANDOS CHAN 0761, Tr 1
Dur: 4m17s
Harold Arlen (words: EY Harburg): Somewhere over the Rainbow
Sylvia McNair (soprano)
Andre Previn (piano)
David Fink (double bass)
PHILIPS 446 818 2, Tr 1
Dur: 3m50s
Handel: Water Music Suite No 3, No 18
Scottish Chamber Orchestra
Nicholas McGegan (conductor)
CLASSIC FM 75605570442, Tr 19
Dur: 1m23s
John Cage: Sounds of Venice
Duo Conradi-Gehlen
ANTES EDITION BMCD 31.9224, Tr 2
Dur: 3m49s
Saint-Saens: Danse macabre
Francois Le Roux (baritone)
Graham Johnson (piano)
HYPERION CDA 66856, Tr 11
Dur: 2m34s
Clara Schumann: Romance No 2 (3 Romances, Op 11)
Yoshiko Iwai (piano)
NAXOS 8.553501, Tr 2
Dur: 5m53s
Trad, arr Francaix: Ca Ira
Edith Piaf (voice)
unnamed orchestra
Robert Chauvigny (conductor)
COLUMBIA 7905612, Tr 18
Dur: 2m22s
Berlioz: King Lear Overture, Op 4
London Symphony Orchestra
Colin Davis (conductor)
PHILIPS 416 430 2, Tr 1
Dur: 15m42s.
Last on