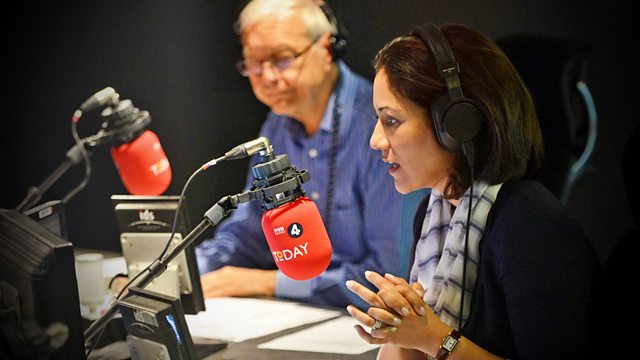 24/07/2009
Presented by James Naughtie and Edward Stourton.
Louise Ellman, the Chair of the Transport Select Committee, discusses what the government may have done wrong.
Conservative health spokesman Mark Simmonds discusses the government's response to swine flu.
Italian news magazine L'Espresso has published a recording that was allegedly made just after Italian Prime Minister Silvio Berlusconi finished having sex with a prostitute. Correspondent Duncan Kennedy reports.
Presenter James Naughtie travels to Denmark to explore social well-being and to examine the benefits of an economic policy that prioritises happiness.
Director of the School of Life Sophie Howarth gives advice to those embarking on a 'stay-cation'.
Thought for the Day with Rhidian Brook.
Professor Stephen Glaister, of the RAC Foundation, looks at alternative ways of dealing with road-pricing.
Dr Alan Hay, director of the World Influenza Centre, explains what to expect in relation to swine flu in the coming weeks.
Home affairs editor Mark Easton and Mike Trace, chairman of the International Drug Policy Consortium, examine whether the criminal justice system can deal with increasing cocaine use.
Film footage giving an insight into the life of composer Gustav Holst has been discovered in Cheltenham, the town where he was born. Marjorie Imlah, chair of the Holst Birthplace Trust, explains what the interviews reveal.
Israeli Prime Minister Benjamin Netanyahu has asserted the rights of Israelis to settle wherever they want in Jerusalem, despite calls from the US to halt development of settlements on the West Bank and in East Jerusalem. Ron Prosor, Israel's ambassador to the UK, explains Mr Netanyahu's comments.
Briony Leyland reports from the Isle of Wight where workers at the Vestas Wind Systems factory are continuing a sit-in protest over the closing of the factory.
Jim Muir examines reports on the excitement in northern Iraq in the build-up to the election.
Colonel Stuart Tootal describes the experiences and the sacrifices of the soldiers at war in Afghanistan.
Former editor of The Economist Bill Emmott and Senator Lucio Malan discuss whether or not the scandal surrounding Italian Prime Minister Silvio Berlusconi's private life will impact on his political career.
Last on