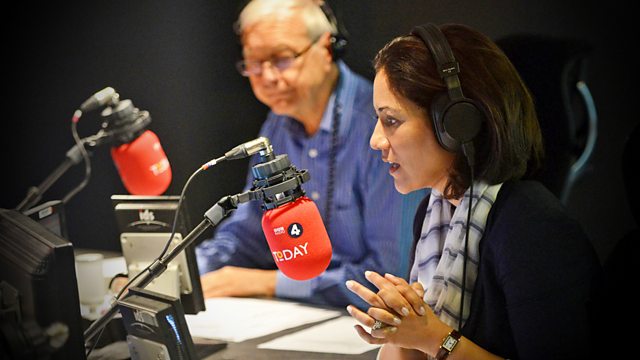 21/07/2009
Presented by Sarah Montague and Edward Stourton.
Commodore Toby Elliott, head of Combat Stress (a charity which looks after former members of the military), discusses NHS care of veterans.
Business editor Robert Peston interviews Robert Stheeman, Chief Executive of the UK Debt Management Office, about the effect of quantitative easing on the sale of government bonds.
Science correspondent Tom Feilden looks at Nasa's plans to return to the moon and beyond.
Chairman of the Commons Culture and Media Committee John Whittingdale discusses what MPs will be asking former News of the World editor Andy Coulson.
Why do so few people from poorer backgrounds end up working in a profession? Mark Easton reflects on a report which explains how young people can boost their ambitions.
Danny Shaw reports on the new play depicting the inquest into the death of Jean Charles de Menezes.
Thought for the Day with Dr Indarjit Singh, director of the Network of Sikh Organisations.
President of the Royal College of Physicians Professor Ian Gilmore explains the story of Gary Reinbach, who was given only a few weeks to live after developing cirrhosis of the liver.
Britain's professions have become more socially exclusive, a report into social mobility suggests. Former cabinet minister Alan Milburn, the author of the report, discusses his findings.
Peter Bowes reports on the experiment to monitor how the forest in Yosemite changes over the generations.
Sarah Montague reports from Afghanistan and talks to General Sir Richard Dannatt about his last journey to Afghanistan before he retires after 40 years of service.
Filmmaker Roger Graef explains why people are more fearful than they used to be.
Health minister Mike O'Brien considers whether the NHS treatment of military veterans 'relies too much on luck and good intentions'.
The novelist Gordon Burn has died aged 61, his agent has confirmed. He had been suffering from cancer. He last appeared on the Today programme when he spoke to Jim Naughtie about his book Born Yesterday: The News As a Novel.
Shaun Bailey, a youth worker and prospective Conservative party candidate for Hammersmith, and Dr Lee Elliot Major discuss whether working class pupils should be given special consideration.
Last on