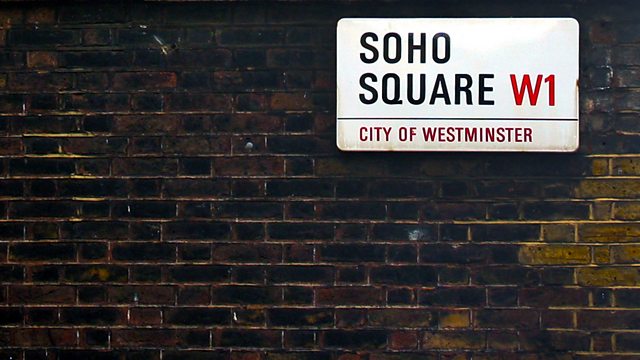 Soho!
Listen in pop-out player
The singer Suggs returns to London's Soho, where he spent much of his unconventional childhood and where his jazz singer mother still lives. He was introduced to the delights of the Colony Club as a six-year-old, and as a musician he continued to haunt the district. Recording on location and mining the BBC archive, Suggs investigates how this unique community, complete with red-light district and village school, functions today, and whether it is still, or indeed ever was, a source of inspiration or merely a creative vacuum.
For decades, Soho was regarded as Britain's capital of sleaze and vice, but also a place where artists, writers, musicians and actors came to drink and philosophise. Tales of the area and its inhabitants abound, from painter Francis Bacon and George Melly at Muriel Belcher's infamous Colony Club to Jeffrey Bernard and Keith Waterhouse at the Coach and Horses and Dylan Thomas at The French House. Soho was the birthplace of British pop, with the skifflers, jazzers and early rock 'n' rollers all making their names in the coffee bars of the 1950s. It was also the home of refugees of every type, including political dissidents, foreigners and homosexuals, from Casanova to Karl Marx, and Quentin Crisp to George Melly.
Yet in the 1950s, a new phrase was coined: 'Soho-itis'. It was said that if you enter Soho you will never get any work done, and you will never, ever leave. Many books, poems, songs and indeed careers were washed away with drink, but some artists, musicians and writers did survive the late nights, the fights and the booze, and took great inspiration from the place.
Last on