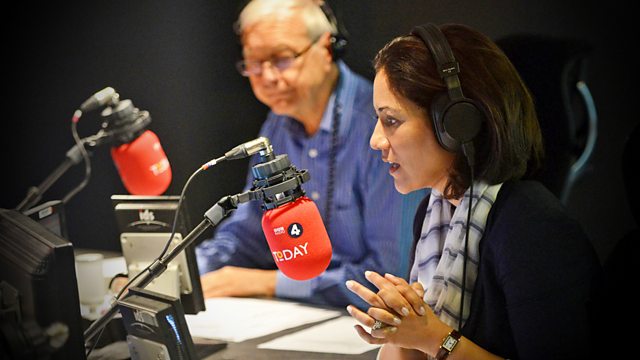 18/07/2009
Presented by Evan Davis and Edward Stourton.
Political correspondent Terry Stiasny considers reports that the government was unhappy with the head of the British Army, General Sir Richard Dannatt.
Evan Davis looks at Nasa's plans to return man to the lunar surface and beyond.
Stephen Alambritis, of the Federation of Small Businesses, discusses if companies are prepared for a swine flu epidemic.
Tehran correspondent Jon Leyne says the Iranian government is leaking support day by day.
Reporter Mike Thomson examines an alleged increase in devastating violence in Congo.
Science correspondent Tom Feilden reports on the cultural revolution that coincided with the Apollo era.
Thought for the Day with Brian Draper, associate lecturer at the London Institute for Contemporary Christianity.
Labour MP Denis MacShane and business expert Jospeh Lampel discuss the future of the steel industry.
Michael Evans of the Times and former Defence Secretary Malcolm Rifkind discuss whether generals and politicians should fight their battles in public.
Paola Antonelli, a senior curator at the Museum of Modern Art in New York, considers if there is a connection between the world of design and the idea of space travel.
Chris Morris reports on the problems caused by the lack of rainfall in India.
The British veteran of the First World War Henry Allingham has died at the age of 113. Military historian Max Hastings remembers the man and what he signifies to younger generations.
Mike Griffin, the former administrator of Nasa, explains why no human has returned to the moon since 1972.
Journalist Carl Bernstein remembers the life of former US TV newscaster Walter Cronkite.
Author Matthew Brzezinski and Dr John Sheldon, of the US Air Force School of Advanced Air and Space Studies, discuss the competition between Russia and the US in the space race.
Last on