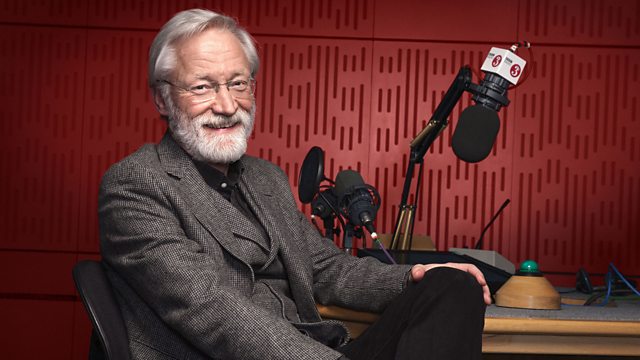 Donald Macleod is in the company of British composer Jonathan Harvey.
The orchestra learns to speak in one of Harvey's most ambitious and complex works to date - Speakings, which was premiered at the BBC Proms 2008. As the composer himself explains it: 'The orchestral discourse, itself inflected by speech structures, is electro-acoustically shaped by the envelopes of speech taken from largely random recordings. The vowel and consonant spectra-shapes flicker in the rapid rhythms and colours of speech across the orchestral textures. A process of 'shape vocoding', taking advantage of speech's fascinating complexities, is the main idea of this work.'
One Evening... (1993-4) for soprano, mezzo-soprano, ensemble of eight players and electronics (4th mvt)
Sarah Leonard (soprano)
Mary King (mezzo-soprano)
Ensemble Intercontemporain
Stefan Asbury (conductor/electronics)
Accord 465 281-2, Tr 4
How Could the Soul Not Take Flight (1996) for unaccompanied double SATB chorus
BBC Singers
David Hill (conductor)
Specially recorded for Composer of the Week on 13 March 2009
Speakings (2007-8) for orchestra and electronics
BBC Scottish Symphony Orchestra
Ilan Volkov (conductor)
Live concert recording - City Halls, Glasgow, 5 March 2009.
Last on