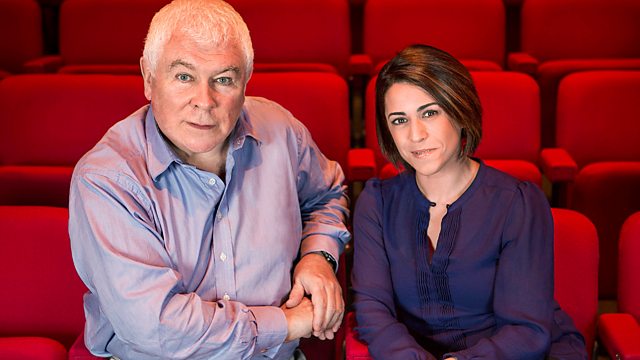 13/07/2009
Presented by Sean Rafferty.
Canadian pianist Angela Hewitt performs in the studio and we go to the Hackney Empire Theatre in London to preview a concert in the Hackney Proms by Baroque ensemble Battuta, with David Owen Norris (fortepiano) and Thomas Guthrie (baritone).
Composer Christopher Austin and critic Paul Morley talk about their BBC 4 documentary 'How to be a composer'.
5.03
KRAUS
Riksdagsmarsch (Tempo di Marcia)
Orchestra of the Age of Enlightenment
Anthony Halstead (director)
MSCD 419
Track 9
3'44
5.08
BRAHMS, arr. HEIFETZ & orch. REYNOLDS
Contemplation (Wie melodien zieht es mir)
Nicola Benedetti (violin)
London Symphony Orchestra
Daniel Harding (conductor)
DG 987057-7
Track 7
3'12
5.13
LIVE MUSIC
MENDELSSOHN
Prelude in E minor (from Prelude and Fugue Op.35 No.1)
Angela Hewitt (piano)
1'55
5.19
LIVE MUSIC
HANDEL
Adagio and Allegro (Suite No.2 in F major, HWV.427(1720))
Angela Hewitt (piano)
4'05
5.28
LIVE MUSIC
HAYDN
Allegro (1st movement) (Sonata No.62 in E flat major,Hob.16:52)
Angela Hewitt (piano)
5'38
5.36
VIVALDI
Lauda Jerusalem, RV.609
Musica Fiata (solo singers)
La Capella Ducale (choir)
Roland Wilson (director)
DHM 88697318702
Track 23
7'54
5.44
FRANCISCO TARREGA
Variations on the Carnival of Venice
Xuefei Yang (guitar)
EMI 2063222
Track 7
7'59
5.54
BYRD (transcribed by Leopold Stokowski)
Pavane and Gigue
Bournemouth Symphony Orchestra
Jose Serebrier (conductor)
Naxos 8.572050
Track 12
4'29
6.00 NEWS
6.03
LUMBYE
Columbine Polka Mazurka
Copenhagen Tivoli Orchestra
Lavard Friisholm (director)
EMI 68161-2
CD2 Track 6
3'30
6.08
MENDELSSOHN
Rondo Capriccioso in E major/minor, Op.14
David Owen Norris (fortepiano)
BBC Recording
6'32
6.20
MOSCHELES
Prelude and fugue No.15 in G major
(Prelude and fugue (BWV.860) in G major - Prelude arr.Moscheles for 2 pianos)
David Owen Norris (fortepiano)
Joseph Crouch (cello)
BBC Recording
3'47
6.28
MENDELSSOHN
Nachtlied, Op.71 No.6 & Hexenlied, Op.8 No.12
Thomas Gurthrie (baritone)
David Owen Norris (fortepiano)
BBC Recording
5'19
6.37
WOLF-FERRARI
Prelude & Intermezzo from 'I Quattro rusteghi'
BBC Philharmonic
Gianandrea Noseda (conductor)
CHAN 10511
Tracks 5-6
5'29
6.48
PAUL MORLEY
String Quartet
Konrad Elias-Trostmann and Charlotte Reid (violins)
Ian Anderson (viola)
Hetty Snell (cello)
BBC Recording
1'39
6.51
PALESTRINA
Pulchra es amica mea
Jamie Savan (mute cornett)
Steven Devine (organ)
CHAN 0761
Track 3
4'28
6.57
HANDEL
Suite No 8 in F minor, HWV433 (Courante)
Angela Hewitt (piano)
Hyperion CDA67736
Track 9
1:57
Last on