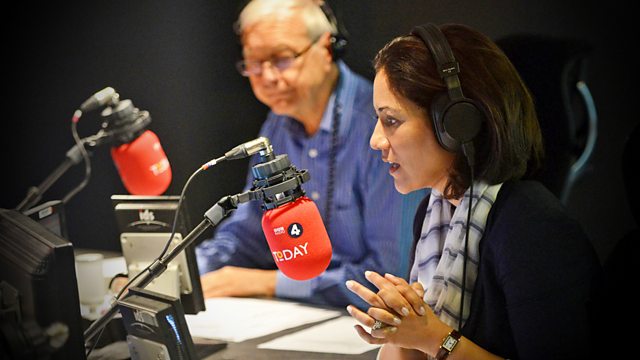 13/07/2009
Presented by Evan Davis and Edward Stourton.
Wais Barmak, Deputy Minister at the Afghan Ministry for Rural Rehabilitation and Development, discusses whether corruption is hindering Afghanistan's reconstruction efforts.
Liberal Democrat Councillor Malcolm Eady discusses the problems in funding caused by increased numbers of primary school pupils.
A schoolboy from the Isle of Man has died on holiday in Thailand after he was sucked into a swimming pool pumping system. Alastair Leithead reports.
Iain Duncan Smith MP, who runs think tank the Centre for Social Justice, discusses a report on proposed changes to divorce proceedings in Britain.
Liberty legal officer Anna Fairclough discusses the organisation's concerns over the way the Criminal Records Bureau makes checks on the people who work with children.
Correspondent James Coomarasamy speaks to gun owners in Tennessee about changes to gun laws in their state.
Thought for the Day with Canon Dr Alan Billings.
Should more women endure pain in childbirth? Dr Denis Walsh discusses his concerns with Dr Maggie Blott.
Martin Patience reports from Kabul on reaction to the deaths from those still fighting in Afghanistan.
Counterinsurgency expert David Kilcullen and Michael Clarke of the Royal United Services Institute discuss whether the military and civilian goals can be achieved in Afghanistan.
Nicola Pearson reports on the auction of the beach that inspired Virginia Woolf's novel To the Lighthouse.
GP Dr Jonathan Richards and Liberal Dem MP Steve Webb discuss whether the rules for sickness benefits are too strict.
Dr Richard Stephens discusses research which showed that swearing led to an increased heart rate and to heightened emotions that led to an increased tolerance to pain.
David Cooke, Director of the British Board of Film Classification, and journalist Bryan Appleyard discuss what it would take for a film to be unclassifiable.
Author Jonathan Morduch describes what they found from tracking the financial diaries of low income people around the world.
Historian Graham Stewart and author Simon Reid-Henry discuss what makes for a successful political friendship.
Last on
So you think you know the Today programme?