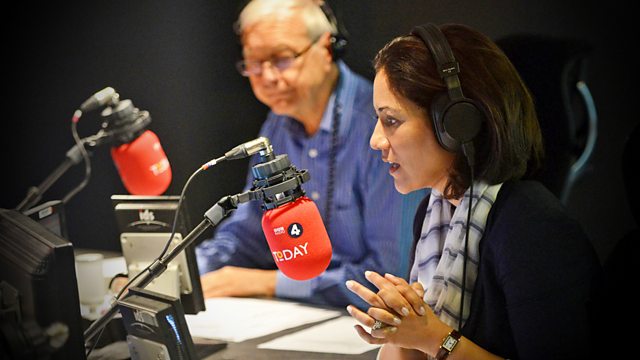 15/07/2009
Presented by Evan Davis and Edward Stourton.
Sir Liam Donaldson, Chief Medical Officer of England, discusses how to estimate the number of people affected by swine flu.
Nick Bryant reports on Jamie Neale, the 19-year-old backpacker who went missing in Australia for twelve days and survived.
Sarah Mukherjee reports from Ashton Hayes in Cheshire, which is trying to become England's first carbon neutral village.
Norman Smith reports on the by-election due to take place in Norwich North.
Journalist Martin Wolf and economist Jim O'Neil discuss if the pattern of the UK economy echoes the Great Depression of the 1930s.
Nicola Stanbridge reports on how one council on the Metropolitan line is trying to protect its slice of Metro-land for posterity.
Thought for the Day with The Right Reverend James Jones, Bishop of Liverpool.
Environment Secretary Ed Miliband considers whether the UK can adapt to a low-carbon economy.
Sanchia Berg reports on how one London borough is catering for the increased demand for school places. Margaret Eaton, Chairman of the LGA, considers if the economic climate is forcing some parents to abandon private education.
The BBC Trust is considering calls for Thought for the Day to include non-religious speakers. Christina Rees, a member of the Church of England's General Synod, and AC Grayling, a philosopher and atheist, discuss the future of Thought.
Head of the Army General Sir Richard Dannatt, who has been flying with Today presenter Sarah Montague in a US helicopter, says if he moves in an American helicopter it is because he does not have a British one.
The father of previously missing teenage backpacker Jamie Neale explains how he felt when he heard the news his son was alive in Australia.
Human rights arguments against extraditing a British man accused of hacking into US military networks were not 'confronted', a court has heard. Shadow Home Secretary Chris Grayling discusses the extradition process in UK courts.
Top surgeon Lord Darzi, one of several non-political figures brought into Gordon Brown's government, is to resign as Health Minister. Political writer Anthony Howard discusses whether this marks the end of the Prime Minister's aspiration to put together a government of all the talents.
What has caused the increased pressure on school places? Mick Brookes, general secretary of the National Association of Headteachers, and Julian Le Grand, professor of social policy at the London School of Economics, discuss the possibilities.
Do psychiatric drugs work? Dr Joanna Moncrieff, of the Department of Mental Health Sciences at University College London, says they actually put people into 'drug-induced states'. She discusses whether drug treatments work in psychiatry with consultant psychiatrist Trevor Turner.
Last on