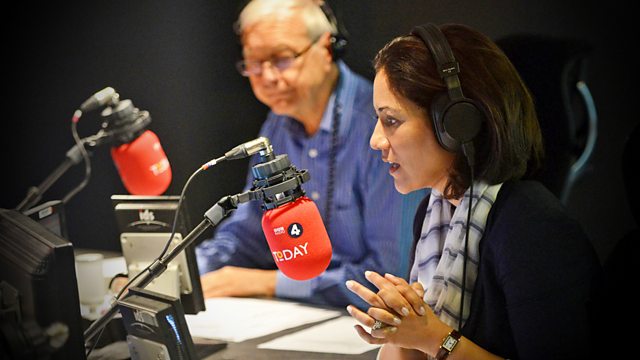 03/07/2009
Presented by John Humphrys and James Naughtie.
Labour Chairman of the Health Committee Kevin Barron discusses how ten per cent of people who go into hospital get harmed in some way.
Correspondent Jack Izzard talks to one woman about the effect that giving evidence in court had on her son. NSPCC lawyer Barbara Esan also talks about the effects of the current system on children.
Nick Ravenscroft reports on a modern twist to architecture and music, three centuries apart.
The Royal Pharmaceutical Society is warning about the dangers of increasing numbers of us buying Tamiflu online without a prescription. Director of Policy David Pruce says how most Tamiflu on the internet is probably fake and how there is plenty available through GPs.
Lawyer Ayesha Vardag discusses prenuptial agreements and bringing the UK in line with the rest of Europe.
Professor Tim Coulson discusses whether scientists believe that global warming has led sheep to become smaller.
The war memoirs of Spike Milligan are being staged at the Bristol Old Vic. Adolf Hitler: My Part In His Downfall charts the comedy and tragedy of Gunner Milligan's service in WWII. Be warned: it contains barrack room humour. Correspondent Nicola Stanbridge reports from the rehearsals.
Thought for the Day with Catherine Pepinster, editor of The Tablet.
Ian Pannell reports from Afghanistan, where he is embedded with US troops.
A council which was the first to try to prosecute a mother for using a false address to get her son into a popular state school has dropped its case.
Buzz Aldrin was the second man to step foot on the surface of the moon in July 1969. Forty years on from the Apollo 11 mission to the moon we take you back to when President Richard Nixon spoke to Buzz Aldrin and Neil Armstrong. Buzz Aldrin also talks about his new book, 'Magnificent Desolation'.
The Chief Executive of Luton and Dunstable Hospital, Stephen Ramsden discusses the concerns about the quality of patient care and what can be done about it with the Chairman of the Consultants' Committee of the British Medical Association, Jonathan Fielden.
Simon Hoggart of The Guardian discusses the rulings on how far a member of parliament may go in calling another member a liar.
Rajesh Mirchandani reports on how the budget deficit in California has prompted Republican Governor Arnold Schwarzenegger to declare a fiscal emergency.
Sarah Rainsford reports on how Iranian people may be increasingly frightened to speak out.
Can superstition help Andy Murray to become the first British player for 71 years to reach a Wimbledon final? Olympic medal-winning canoeist Helen Reeves and sports psychologist Dr Victor Thompson discuss whether superstition can do more harm than good.
Last on