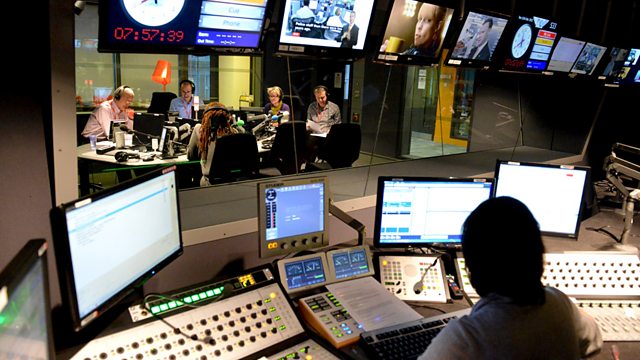 02/07/2009
Presented by John Humphrys and Sarah Montague.
Foreign Office Minister Chris Bryant discusses whether schools should play a greater preventative role in identifying signs of forced marriages.
Phil Bell, of Classic Cars magazine, discusses the models that could be at risk due to the government's car scrappage scheme.
Correspondent Richard Westcott joins pupils from Gryphon school, a comprehensive in Sherborne, as they complete work on a feature film.
Writer Beryl Bainbridge discusses libraries as librarians from all over the UK meet to discuss how they can make them better.
The 'great train robber' Ronnie Biggs has been refused parole by Justice Secretary Jack Straw. Jeff Edwards, of the Crime Reporters' Association, discusses why Mr Straw has accused Mr Biggs of 'outrageously court[ing] the media'. Ronnie Biggs' son, Michael, explains why he believes his father should be released.
Actress Mollie Sugden has died at the age of 86, her agent has said. The TV star, best known for playing Mrs Slocombe in long-running BBC sitcom Are You Being Served?, died at the Royal Surrey Hospital after a long illness.
Arts correspondent Rebecca Jones visits the exhibition It Felt Like a Kiss by documentary filmmaker Adam Curtis.
Thought for the Day with Reverend Dr Giles Fraser, Vicar of Putney.
Correspondent Jack Izzard reports on the problems of the young unemployed in Swindon. Professor Richard Pring reflects on why nearly one million 16 to 24-year-olds are not in employment, education or training in England.
The partial sell-off of Royal Mail will not proceed in the current circumstances, Lord Mandelson has said. BBC editors Robert Peston and Nick Robinson reflect on the current interpolation between business and politics.
Journalist Kelvin Mackenzie and DAB promoter Tony Moretta discuss if digital radio is better than analogue.
The US army says it has launched a major offensive against the Taliban in southern Afghanistan's Helmand province. Correspondent Martin Patience reports on what events have taken place overnight.
The prime minister's plans to tackle youth unemployment are forming a central part of the launch of the government's 'Building Britain's Future' campaign. Former MPC member Professor Danny Blanchflower discusses.
Children at a school in Exeter have been banned from wearing goggles during their swimming lessons. Olympic gold medallist Duncan Goodhew and Glen Balmont, of the Association for Physical Education, discuss if health and safety has gone too far.
Student maintenance grants and loans in England will be frozen for the academic year 2010-2011. Wes Streeting, of the National Union of Students, discusses the government's decision.
Self-help books have been the big publishing success of the past couple of decades but it is not just a recent phenomenon. Radio 4 documentary maker Kate Williams discusses if people have always looked to literature for assistance.
Last on