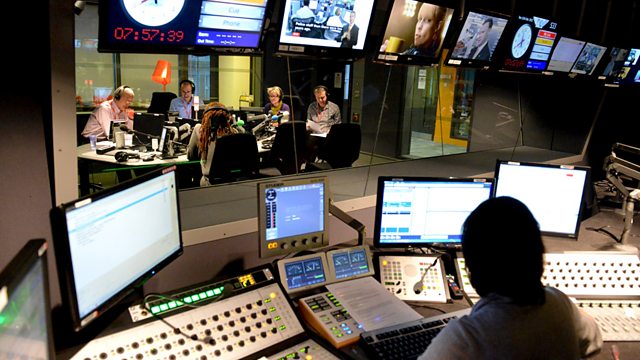 26/06/2009
Presented by James Naughtie and Sarah Montague.
Pop star Michael Jackson has died. Journalist Jonathan Margolis, who spent months working with Michael Jackson, explains what made the singer so special.
At least six people have been killed in a series of bomb attacks in Iraq, just days before US troops are due to leave Iraqi cities. Jim Muir reports.
The BBC has published details of the 360,000 pounds of expenses claimed by its board members over the past five years. David Elstein, a former chief executive of television channel Five, discusses some of the more surprising claims made by the corporation's executives.
Historian Mark Dunton explains new revelations about a possible chemical attack on Tokyo during WWII.
Correspondent Rajesh Mirchandani reflects on the life of the superstar Michael Jackson. Unauthorised biographer Chris Andersen describes the sort of person he uncovered during his research.
A journalist with dual British and Greek nationality has been arrested in Iran as he was leaving the country. Iason Athanasiadis is a freelancer working for the Washington Times. John Solomon, executive editor of the paper, explains what the journalist was doing before his arrest.
Thought for the Day with Catherine Pepinster, editor of the Tablet.
Dr Mary Bousted, of the ATL, and Labour MP Barry Sheerman discuss the future of the national curriculum.
Home affairs correspondent Daniel Sandford discusses the the Home Office's new Community Cashback scheme.
Michael Jackson has died in Los Angeles at the age of 50. Friend Uri Gellar and Mark Ellen, editor of Word Magazine, react to the death of the pop star.
The expenses of some top BBC executives have been published. BBC director general Mark Thompson explains why he made some of the claims, including 2,236 pounds to fly him and his family back from a holiday in Sicily to deal with the fall-out following calls made to actor Andrew Sachs by Jonathan Ross and Russell Brand.
Andrew Haldenby of the think tank Reform and Mark Serwotka of the Public and Commercial Services Union discuss the future of public spending.
A Jewish school showed racial discrimination in refusing admission to a boy who had a Jewish father but whose mother had converted to Judaism, the Court of Appeal has ruled. Rabbi Zvi Solomons, from the Reading Orthodox Hebrew congregation, and John Halford, a solicitor who represented the boy, discuss if an admission policy based on religious and not racial criteria is lawful.
The White House has accused Iranian President Mahmoud Ahmadinejad of seeking to blame the US for the unrest following Iran's disputed election. Middle East editor Jeremy Bowen reports on a condemnation from Iranian leaders of those opposing the election result, which is expected to come at Friday prayers.
Correspondent Colin Patterson reports on how crowds at Glastonbury are reacting to the death of Michael Jackson. Broadcaster Paul Gambaccini discusses how the star will be remembered.
Last on