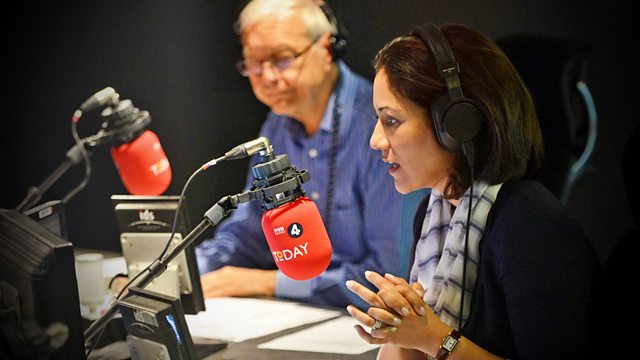 25/06/2009
Presented by Evan Davis and Sarah Montague.
Dr Tony Moran discusses whether UK cancer survival rates could be made to match the best in Europe and the US.
Drug expert Sandeep Chawla explains why the UK has a tradition of narcotics use.
Correspondent Jon Leyne, who was asked to leave Iran by the country's authorities, gives his assessment of the struggle ahead.
Exhibition curators Felicity Powell and Philip Atwood show presenter Evan Davis some examples of medals of dishonour.
Shadow justice secretary Dominic Grieve considers if the law that allows councils to spy on people and the legislation giving police stop-and-search powers could be changed.
Tom Symonds reports on calls from experts for better signs, lines, junctions and road surfaces.
Cambridge University is launching a campaign to acquire the private papers of the WWI poet Siegfried Sassoon. Lord Egremont, the official biographer of the poet, discusses the collection.
Thought for the Day with Reverend Dr Giles Fraser, Vicar of Putney.
Correspondent Jim Muir reports on one of the worst attacks in Iraq in 2009. Gareth Stansfield, Professor of Middle East Politics at Exeter University, considers whether the war in Iraq is nearing its end.
District Judge Lynn Roberts explains what she thinks of the new rules concerning the reporting of cases in family courts.
The BBC is set to publish the annual salaries and line-by-line expenses of its top 100 executives and decision makers. Media correspondent Torin Douglas reports on what exactly will be published.
David Sillito and comedian Arthur Smith consider a project by London Underground to include the words of Gandhi, as well as Einstein, Jean-Paul Sartre and other great thinkers, in service announcements on the tube.
Middle East editor Jeremy Bowen considers whether eyewitness accounts of clashes near the parliament building in Tehran can be verified, as BBC journalists face severe reporting restrictions. An anonymous protester gives his account of events in Tehran.
A British man who is suing the Home Office for collusion in his alleged torture in Bangladesh has given his first broadcast interview to the BBC. Home affairs correspondent Daniel Sandford talks to Jamil Rahman, who claims he was stripped, beaten and told his wife would be raped after MI5 asked the Bangladeshi intelligence services to detain him. The BBC cannot independently substantiate his allegations.
Jim Fouratt, who was there, and Kenneth Partridge, who was on the London gay scene at the time, discuss the lasting significance of the Stonewall riots 40 years ago.
Columnist Camilla Cavendish and justice minister Bridget Prentice consider why there hasn't been more interest in family courts from the media.
Last on