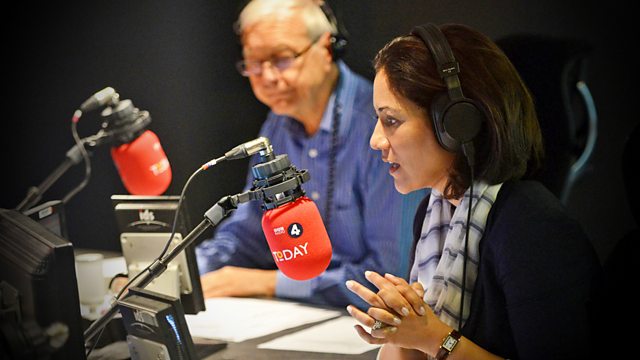 24/06/2009
Presented by Sarah Montague and Evan Davis.
Keith Vaz MP says that a one million pound Home Office project to help failed asylum seekers return home has been a waste of money.
France is to set up a commission to study the extent of burkha-wearing in the country, after President Nicolas Sarkozy said the veils reduced dignity. Lawyer Stephen Suffern discusses whether or not it could be banned.
Alan Stilwell, who has been leading an inquiry for the Institution of Civil Engineers, discusses how utility networks in the UK can be improved.
Correspondent Nick Bryant compares anti-immigration politics in Australia in the 1900s with modern-day Britain.
Reporter Sanchia Berg spends a fortnight in different Family Courts following various cases.
What does it take to make a good inventor? Neuroscientist Susan Greenfield and Tanya Ewing, British Female Inventor of the Year, discuss how inventive people can be identified.
Thought for the Day with Vishvapani, a member of the Western Buddhist Order.
Primary school headteacher Tim Benson and Miriam Rosen, Ofsted's director of education, discuss what needs to be done to improve young children's behaviour.
Ian Pannell reports on allegations of abuse from former inmates of Bagram military base in Afghanistan.
Economist Jon Moulton and the Liberal Democrats' Treasury spokesman Vince Cable discuss whether the city has changed its ways.
Team manager Michael McGregor and team captain Daniel Christian discuss a tour by a squad of aboriginal cricketers to England.
Correspondent Jeremy Bowen considers whether, as US President Barack Obama has said, the violence used against protesters in Iran was 'unjust'. Columnist Con Coughlin discusses Britain's relationship with Iran.
David Willey reports on the unveiling of the written petition to allow King Henry VIII to get divorced.
Bob Collins, chief commissioner for the Equality Commission in Northern Ireland, discusses whether a spate of recent attacks on Romanians is a symptom of a wider problem.
Author Michael Steinberger and French cultural commentator Agnes Poirier discuss the standard of French cuisine.
Political commentator Anthony Howard considers the extent to which the role of Speaker of the House of Commons has become political, despite it being an impartial role.
Last on