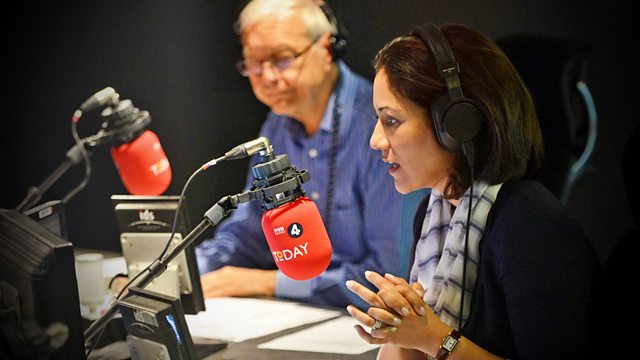 23/06/2009
Presented by Edward Stourton and James Naughtie.
Workers at the Lindsey oil refinery have been sacked for staging unofficial strikes. Les Bayliss of Unite discusses the reaction of Total, the owners of the refinery.
The Conservative MP John Bercow has been appointed as Commons Speaker after a six-hour election process. Reporter Nicola Stanbridge reflects on the events as they unfolded in Westminster.
Two rush-hour subway trains have collided in Washington DC, leaving at least six people dead and 76 injured. Safety consultant Barry Sweedler explains what he knows about what could have happened.
Reporter Nick Higham visits Berwick in Northumberland to gauge concern about development in conservation areas.
Dame Anne Owers, the chief inspector of prisons, and Brian Caton, general secretary of the Prison Officers' Association, discuss if the way staff restrain young offenders could be improved.
The government War Book, in use during the Cold War, set out in great detail exactly what was to happen in the countdown to nuclear war, and is now to be released in full to the public. Reporter Sanchia Berg examines the document.
Thought for the Day with The Right Rev Tom Butler, Bishop of Southwark.
Middle East editor Jeremy Bowen considers the possibility of further protests in Iran.
Conservative MP Nadine Dorries, Professor Vernon Bogdanor and Alan Duncan, Shadow Leader of the House, discuss whether John Bercow will be a successful Speaker of the House of Commons.
British tennis number one Andy Murray will begin his Wimbledon campaign against American Robbie Kendrick. But is Murray British or Scottish? Author AL Kennedy ponders whether the definition might change according to his fortunes.
Andy Hayman, formerly of Scotland Yard, says there should be an open inquiry into the 7/7 bombings.
Caroline Hawley reports on the musical about racial tensions in South Africa before apartheid.
Correspondent Laura Bicker reports from outside the Lindsey oil refinery. Bob Emmerson, a human resources manager at the plant, discusses if a resolution could be reached.
Caroline Wyatt reports on two charities helping combat veterans in Scotland.
Correspondent Duncan Kennedy reports from Rome on the scandal surrounding Italian Prime Minister Silvio Berlusconi. Lucio Malan, a member of Mr Berlusconi's People of Freedom Party, and journalist Annalisa Piras discuss the legitimacy of the allegations against him.
Last on