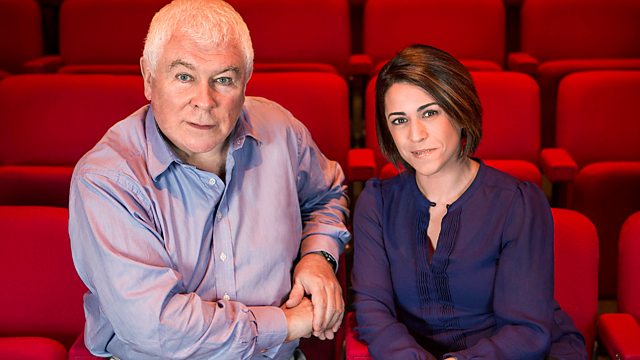 18/06/2009 City of London Festival and William Christie
Sean Rafferty presents a selection of music and guests from the arts world.
Including 2009 City of London Festival director Ian Ritchie with mezzo-soprano Daniela Lehner and pianist Jose Luis Gayo previewing the event.
Plus leading conductor and director William Christie and Jonathan Kent talking from Glyndebourne Opera about the new production of Purcell's The Fairy Queen - the first time the work has been staged at Glyndebourne.
5.02
PURCELL
First and Second Musick (from The Fairy Queen)
Les Arts Florissants
William Christie
Harmonia Mundi HMC901308.09
CD 1Tracks 1-5
6'32
5.09
MORALES
Parce mihi domine (from Officium defunctorum)
Hilliard Ensemble
Jan Garbarek (saxophone)
ECM 445 369-2
Track 1
6'32
5.21
LIVE MUSIC:
SCHUMANN
An die Konigin Elisabeth Op. 135 No. 3
ROBERT FRANZ
O sah ich auf der Heide sort Op. 1 No. 5
3'26
5.31
LIVE MUSIC
GRIEG
Zur Rosenzeit Op. 48 No. 5
FEDERICO CHUECA
Scottisch (from La Gran Via)
5'18
5.40
MOZART
Piano Concerto in E flat No. 9 KV. 271 (3rd movement)
Mitsuko Uchida (piano)
English Chamber Orchestra
Jeffrey Tate (conducter)
Philips 432 086-2
Track 3
9'25
5.51
STRAVINSKY
Birth of Apollo (from Apollo)
CBSO
Simon Rattle (conductor)
EMI CDC7496362
Track 1
5'12
5.57
DUKE ELLINGTON
Dancers in Love
Duke Ellington (piano)
Duke Ellington Orchestra
Nimbus 2719/20
CD 2 Track 7
2'23
6.00 News
6.03
COPLAND
Danzon cubano
Dallas Symphony Orchestra
Eduardo Mata (conductor)
EMI 69522123
Track 5
7'48
6:12
PURCELL
Entrance of Night 'See, even Night herself is here' (The Fairy Queen, Act 2)
Nancy Argenta (Night – Soprano)
Les Arts Florissants
William Christie (conductor)
Harmonia Mundi HMC901308.09
CD 1 Track 13
4'48
6.22
PURCELL
Dialogue between Coridon and Mopsa (The Fairy Queen Act 3)
Bernard Deletre (Coridon – Bass)
Jean-Paul Fouchecourt (Mopsa – tenor)
Les Arts Florissants
William Christie
Harmonia Mundi HMC901308.09
CD1 Track 24
3'27
6.31
PURCELL
The Fairy Queen ("They shall be happy as they are fair"; Chaconne; "They shall be happy as they are fair")
Les Arts Florissants
William Christie (conductor)
Harmonia Mundi HMC901308.09
CD 2 Tracks 25-27
4'17
6.38
ETIENNE MEHUL
La chasse du jeune Henri
New Philharmonia Orchestra
Raymond Leppard (conductor)
Philips 446 569-2
Track 13
11'07
6.49
DEBUSSY
L'Isle Joyeuse
Simon Trpceski (piano)
EMI 50027224
Track 16
5'38
6.55
BILLY STRAYHORN (arr. BEN WEBSTER)
Lush Life
Calefax Reed Quintet
MDG 61910432
Track 11
3'42
Last on