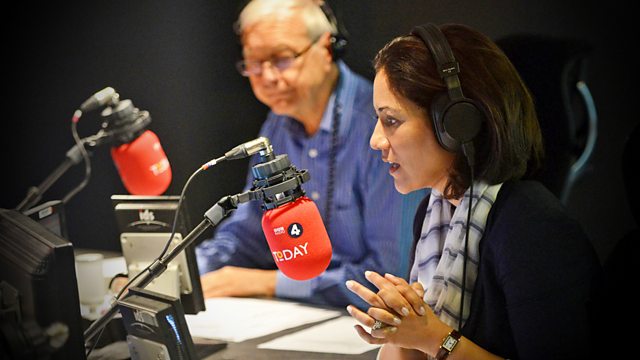 15/06/2009
Presented by James Naughtie and Sarah Montague.
Tim Franks reports from Jerusalem on Israeli prime minister Benjamin Netanyahu's landmark speech.
Jon Leyne reports from Tehran on how thousands of protestors are expected on the streets of Iran.
Professors Alan White and Professor Mike Richards discuss whether men face a greater risk of cancer than women.
Michael Roberts, Chief Executive of the Association of Train Operators, discusses if lines axed in the 1960s could be reopened.
George and Deborah Kinsella discuss what should be done to halt the knife crime that they say is 'embedded in the very heart of Great Britain'.
Thought for the day with Rev Dr Colin Morris, a Methodist Minister.
Nicholas Witchell reports from Baghdad on one of the last US foot patrols with the fifth cavalry.
The swine flu virus has claimed its first victim in the UK, after a female patient died in a Scottish hospital. James Cook reports on the scale of the problem in Scotland and Professor John Oxford, virologist at Queen Mary University, London, debates the implications of the death.
Middle East correspondent Jeremy Bowen, Aaron David Miller, who served six US secretaries of state as an advisor on Arab-Israeli negotiations, and Ron Prosor, Israeli Ambassador in London, discuss Israeli Prime Minister Benjamin Netanyahu's endorsement of a two-state solution.
New owner of Erotic Review Kate Copstick and novelist Kathy Lette discuss whether men are better at writing about sex than women.
Sir Kenneth Calman discusses what should be done to improve devolution in Scotland.
Hugh Pym reports on how the recession has affected the government's Private Finance Initiative (PFI) plans.
Home affairs correspondent Danny Shaw reports on how probation staff monitor violent and high-risk offenders.
Two veterans of the Siege of Tobruk, one German and one British, remember the pivotal battle in World War II.
Last on