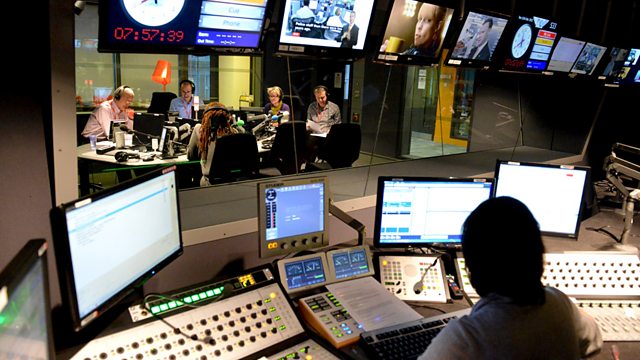 16/06/2009
Presented by James Naughtie and Evan Davis.
Jon Leyne reacts to reports of further violence during protests in Iran.
Nicholas Lansman, of the ISP Association (ISPA), and Stephen Garrett, of programme makers Kudos Productions discuss who should be responsible for policing the web.
Correspondent Angus Crawford talks to a former soldier who had to leave the army after being injured by the cold.
Economist John Appleby discusses how the NHS can be made more efficient.
Reporter Sanchia Berg talks to architect Lord Rogers who said he believes Prince Charles has broken the 'constitutional understanding' governing the role of the monarchy.
Thought for the Day with The Right Reverend Tom Butler, Bishop of Southwark.
Andrew Hosken reports on the expenses row that has now moved into the House of Lords.
How will Britain respond to the elections in Iran? Foreign affairs editor John Simpson details the aftermath of recent protests. Foreign Secretary David Miliband gives his reaction to the post-election violence.
Dr Michael Dixon, of the Natural History Museum, and columnist Simon Jenkins, discuss if museum entry should be free.
The BBC could be made to share part of the television licence fee with commercial rivals under government plans. Peter Bazalgette, formerly of media company Endemol, and Sir Christopher Bland, former chairman of the BBC, discuss the future of public broadcasting.
Stephen Chittenden reports on the fixture between Spanish football giant Real Madrid and Irish part-timers Shamrock Rovers.
After the Chief Probation Officer resigned over the botched handling of double killer Dano Sonnex, the probation service has come under increased scrutiny. Home affairs correspondent Danny Shaw discovers what this means for the daily routine of probation officers in Kent.
All over the world people are monitoring unfolding events in Iran via the internet, where an apparently decisive election victory by the incumbent Mahmoud Ahmadinejad is being challenged on the streets. Correspondent Jon Leyne reports from Tehran on the ongoing protests. Turi Munthe, of the website Demotix, explains how content is still being generated despite the restrictions on media.
Last on
Paddington creator Michael Bond talks to Today