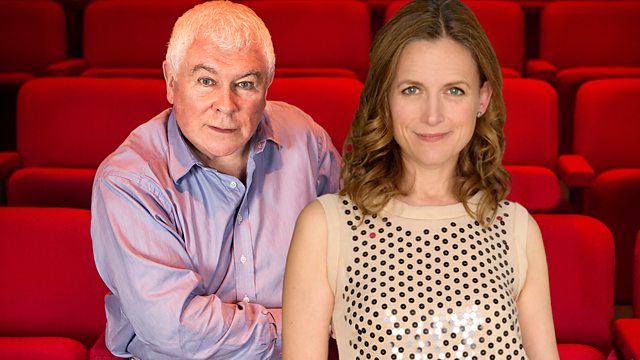 12/06/2009 HK Gruber, Freddy Kempf and Caius Consort
Sean Rafferty presents a selection of music and guests from the arts world.
Composer, conductor and chansonnier HK Gruber joins Sean to talk about his forthcoming concert performance of Die Dreigroschenoper by Kurt Weill at the Barbican in London, with soprano Dorothea Roschmann, mezzo-soprano Angelika Kirschlager and tenor Ian Bostridge.
Ahead of Caius Consort's inaugural performance at the 2009 Spitalfields Summer Music Festival, director Geoffrey Webber talks to Sean and directs the Consort from the harpsichord, with additional improvisation from triple-pipes player Barnaby Brown.
Plus a performance from celebrated pianist Freddy Kempf and an update from Petroc Trelawny on 2009's BBC Cardiff Singer of the World competition.
17:02
WEILL
Die Dreigroschenoper – The Threepenny Opera (Foxtrot Potpourri)
Das Palast Orchester
HK Gruber (conductor)
RCA 09026 63513-2
Track 12
4:45
17:14
WEILL
Die Dreigroschenoper – The Threepenny Opera (The Ballad of Mack the Knife)
Max Raabe (Macheath)
Ensemble Modern
HK Gruber (conductor)
RCA 74321 66133-2
CD 1 Track 2
2:43
17:17
VIVALDI
Concerto in D minor, RV.129 (Madrigalesco)Aradia Ensemble
Kevin Mallon (director)
NAXOS 8.570445
Track 15
3:30
17:23
LIVE
BEETHOVEN
Sonata in C major, Op.53 'Waldstein' (1st movement)
Freddy Kempf (piano)
10:57
17:39
LIVE
WAGNER, arr. LISZT
Isolde's Liebestod
Freddy Kempf (piano)
c.5:00
17:46
SUPPE
Light Cavalry (overture)
Orchestre symphonique de Montreal
Charles Dutoit (conductor)
DECCA 475 7930
CD1 Track 3
7:00
17:53
WEINER
Three Hungarian Folk Dances
Hagai Shaham (violin)
Arnon Erez (piano)
HYPERION CDA67735
Tracks 11 – 13
5'13
18:03
SZYMANOWSKI
Paganini Caprice No.1 in D major
Alina Ibragimova (violin)
Cedric Tiberghien (piano)
HYPERION CDA 67703
Track 10
2:59
18:10
MOZART
Cosi Fan Tutte (come scoglio)
Ekaterina Shcherbachenko (soprano)
Recorded at Cardiff Singer of the Year
5'37
18:17
HAYDN
Die Feuersbrunst: Sinfonia in C major, Hob.29a:4
Haydn Sinfonietta Wien
Manfred Huss (director)
BIS CD 1818
CD1, track 9
8:14
18:26
LIVE
BUXTEHUDE
Cantate Domino
Emma Walshe (Soprano)
Katherine Hambridge (Soprano)
Tom Faulkner (Bass)
Geoffrey Webber (keyboard)
6:55
18:38
LIVE
BARNABY BROWN
Improvisations (inspired by living tradition in Sardinia and 16th-17th century Pibroch)
Barnaby Brown (triple-pipes)
3:26
18:47
LIVE
TUNDER
Salve coelestis Pater
Tom Faulkner (bass)
May Robertson (baroque violin)
Geoffrey Webber (keyboard)
5:01
18:53
TANEYEV
Oresteia (Act III: Entr'acte: The Temple of Apollo at Delphi)
Stanislav Jankovsky (clarinet)
Novosibirsk Academic Symphony Orchestra
Thomas Sanderling (conductor)
NAXOS 8.570584
Track 2
5:06
18:59
SCHUBERT
Aus "Diego Manzanares": Ilmerine D458
Elizabeth Watts (soprano)
RCA88697329322
Track 10
00:57
Last on