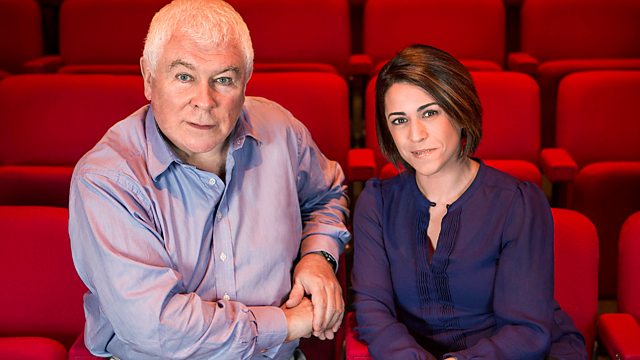 09/06/2009 Davitt Moroney and Stephen Roe
Sean Rafferty presents a selection of music and guests from the arts world.
Celebrated harpsichordist Davitt Moroney joins Stephen Roe, worldwide head of music at Sotheby's, to discuss a recently uncovered 17th-century English keyboard music manuscript containing 15 pieces which are mostly unknown and unpublished. In a world premiere, Davitt Moroney plays a selection of them.
Pianists Ashley Wass and Hamish Milne perform a newly-discovered piano duet by Faure. The autographed manuscript was composed around 1870 and is to be sold at Sotheby's.
Plus a performance from early music and folk duo Horses Brawl.
17:03
FAURE
Impromptu No 2 in F minor Op 31
Kathryn Stott (piano)
CONIFER CDCF 101
Track 7
3'19
17:07
PIERRE ATTAINGNANT / HORSES BRAWL
Tourdion3
Horses Brawl
BRAWL 004
Track 1
4'49
17:12
WILLIAM BYRD
Emendemus in melius for five voices
The Cardinall's Musick
Andrew Carwood (director)
ASV CD GAU 197
Track 1
3'10
17:16
LADY ARBELLE (possible composer)
LADY ARBELLE (possible title)
Davitt Moroney (harpsichord)
00'39
Segue
17:17
ANONYMOUS
'A'
Davitt Moroney (harpsichord)
2'23
17:27
LIVE
ANONYMOUS
Alman
Davitt Moroney (harpsichord)
1'25
17:31
LIVE
ANONYMOUS
Sarabande
Davitt Moroney (harpsichord)
1'02
Segue
17:32
LIVE
ANONYMOUS
Courante
Davitt Moroney (harpsichord)
3'00
17:36
WAGNER
Das Rheingold (Entry of the Gods into Valhalla)
Berlin Philharmonic Orchestra
Klaus Tennstedt (conductor)
EMI 7243 5 74762 2 5
Track 5
4'40
17:40
PETER WARLOCK
Sleep
Andrew Kennedy (tenor)
LANDOR LAN279
Track 10
4'39
17:46
JULIUS BENEDICT
Piano Concerto in C minor Op 45 (Final movement: Allegro con spirito)
Howard Shelley (piano / conductor)
Tasmanian Symphony Orchestra
HYPERION CDA 67720
Track 3
7'48
17:54
LIVE
LANDI / TRADITIONAL / HORSES BRAWL
The Bonny Miller
Horses Brawl
5'08
18:03
FAURE
Cantique de Jean Racine
City of Birmingham Symphony Chorus
BBC Philharmonic
Yan Pascal Tortelier (conductor)
CHANDOS CHAN 10113
Track 1
5'18
18:09
LIVE
MERULA / TELEMANN / HORSES BRAWL
Merula
Horses Brawl
4'52
18:19
LIVE
PLAYFORD's DANCING MASTER / HORSES BRAWL
Maggots
Horses Brawl
3'53
18:23
LIVE
FAURE
The Dolly Suite op.56 (1st movement)
Ashley Wass and Hamish Milne (piano)
2'30
18:28
LIVE – WORLD PREMIER
FAURE
Piano Duet (without opus)
Ashley Wass and Hamish Milne (piano)
00'44
Last on