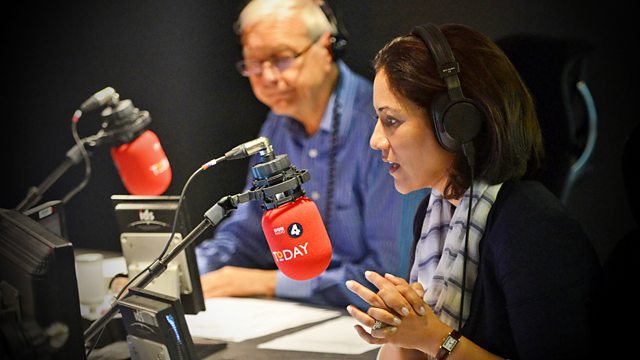 11/06/2009
Presented by James Naughtie and John Humphrys.
Home educator Fiona Nicholson and child services director Peter Traves discuss whether local authorities should have the right to visit any child taught at home.
A woman is due in court charged with four counts of sexual assault and three counts relating to the distribution of indecent images of children. Michelle Elliott, of children's charity Kidscape, reflects on what Police have called a 'significant and distressing situation'.
Radio 4 reporter Simon Cox examines the concern about the growth of online gambling.
Barrister Usha Sood discusses whether, as Virendra Sharma MP alleges, the dowry system is degrading to women and can lead to domestic violence.
Economists John Moulton and Steven Bell discuss if confidence has returned in the UK economy.
The Ukulele Orchestra of Great Britain is to perform at the Proms. Matthew Reynolds, owner of the Duke of Uke specialist shop, discusses the appeal of the instrument, with a song from newsreader Kathy Clugson.
Thought for the day with Dr David Wilkinson, principal of St John's College, Durham.
Correspondent Mike Thomson reports from Zimbabwe on the children who are forced to take on the responsibilities of parenthood while they are themselves not yet in their teens. The BBC is not allowed to operate legally in Zimbabwe so some names and places have been changed to protect the people with whom Mike has spoken.
Chief Secretary to the Treasury Liam Byrne and his shadow counterpart Philip Hammond discuss whether public spending cuts are inevitable.
Yoko Ono has been nominated for a lifetime achievement award by the music magazine Mojo.
Reporter Nicola Stanbridge went to meet Yoko and her son, Sean Lennon.
The first Information Commissioner, Richard Thomas, is about to leave office. He reflects on his six years in the post.
In 2010 South Africa will become the first African country to host the World Cup tournament. Southern Africa correspondent Karen Allen reports on the legacy that the tournament is hoped to leave for children in the country.
One of the men arrested in April in a series of anti-terrorism raids has been speaking to the BBC about his case. Correspondent Mike Wooldridge reports on his conversations with the man.
Lawyer Laurence Harris examines if UK libel laws are stifling free speech.
Virologist John Oxford says it is wise for the UN to declare a global swine flu pandemic.
Last on