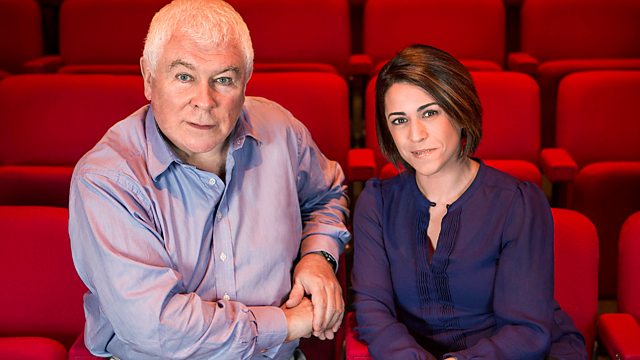 02/06/2009 Roby Lakatos and Musica Contexta
Sean Rafferty presents a selection of music and guests from the arts world.
Gypsy violinist Roby Lakatos performs in the studio with his quintet and talks to Sean about his upcoming concert with the London Symphony Orchestra at the Barbican.
Plus choral group Musica Contexta and their director Simon Ravens performing in the studio. Simon discusses their 'All the King's Men' concert programme, featuring tudor music for men's voices without falsetto countertenors.
1702
LISZT
19 Hungarian rhapsodies for piano (Preludio)
Mark Andre Hamelin (piano)
HYPERION CDA66874
Tr 4
5:09
1708
PALESTRINA
Sicut Cervus
Musica Contexta
CHANDOS 0679
Tr 11
5'08
1713
LIVE
TRADITIONAL
Deux Guitares
Roby Lakatos & Quintet
7'13
1726
LIVE
János BIHARY (°1764-†1827)):
Hejre Kati
Roby Lakatos & Quintet
9'56
1741
LIVE
Vladimir COSMA (°1940):
Le Grand Blond
Roby Lakatos & Quintet
5'44
1747
BACH
Oboe Concerto in D minor BWV 1059
Tim Garland (soprano saxophone)
Northern Sinfonia
Bradley Creswick (director)
ABCD5025
Tr 1-3
12'09
1803
BRAHMS
Scherzo-Allegro WoO 2
Christian Tetzlaff (violin)
Lars Vogt (piano)
EMI 557525
Tr 11
5'02
1811
ELGAR, Edward
Concerto for cello and orchestra (Op.85) in E minor (Allegro)
Julian Lloyd Webber - cello
Royal Philharmonic Orchestra - British symphony orchestra
Yehudi MENUHIN - Conductor
PHILIPS 416 3542
Tr 4
11:14
1823
LIVE
CORNYSH
Ave Maria
Musica Contexta
2:57
1832
LIVE
TAVERNER
Dum Transisset a 4
Musica Contexta
3'15
1841
LIVE
TALLIS
Hear the Voice and Prayer
Musica Contexta
3'03
1845
SAINT SAENS
Samson and Delila, op.47 (Bacchanale)
Philadelphia Orchestra
Eugene Ormandy (conductor)
SONY 88697529872
Tr 8
7'09
1854
DEBUSSY arr Colin Matthews
Preludes (Feux d'artifice)
Halle
Mark Elder (conductor)
CD HLL 7518
Tr 12
5'00
Last on
In Tune Sessions: Proms special