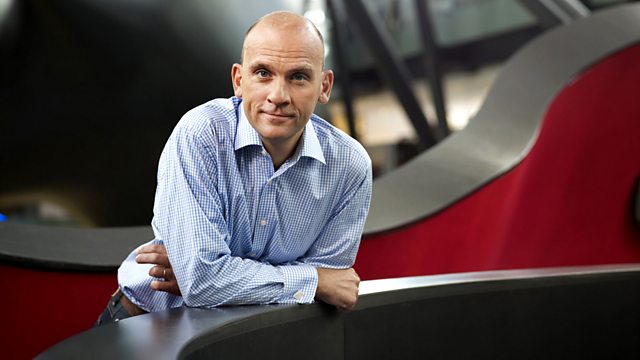 Julian Arguelles and John Abercrombie at the Cheltenham Jazz Festival 2009
Radio 3 at the Summer Festivals
Jez Nelson presents UK saxophonist Julian Arguelles with US guitarist John Abercrombie in concert at the 2009 Cheltenham Jazz Festival. The group perform new tunes written by Arguelles that demonstrate Abercrombie's versatile technique and reputation as one of the world's leading guitarists.
Abercrombie has been at the forefront of jazz guitar music for the past 30 years, from his Gateway group in the 70s, featuring Dave Holland and Jack DeJohnette, to his recent quartet with violinist Mark Feldman. Birmingham-born Arguelles rose to fame in the 1980s as member of UK big band Loose Tubes. Since then he has released a number of albums as leader of groups ranging from duo to big band and received several BBC Jazz Awards.
Playlist:
Jazz on 3 signature tune:
Artist: Russell Gunn (Russell Gunn - trumpet, Gregory Tardy and Bruce Williams - reeds, Andre Heyward - trombone, Chieli Minucci - guitar, James Hurt - keyboards, Rodney Jordan - bass, Woody Williams - drums, Khalil Kwame Bell - percussion, DJ Apollo - turntables)
Track Title: Seventy Four Miles Away
Composer: Joe Zawinul
Album Title: Ethnomusicology Volume 1
Excerpt from A Life Long Moment by Julian Arguelles Trio and John Abercrombie recorded at the Everyman theatre, Cheltenham (details below)
Julian Lage Trio in session recorded May 13, 2009
Line up:
Julian Lage (guitar)
Jorge Roeder (double bass)
Tupac Mantilla (percussion, cajon)
Set list:
Bluegrass Underscore (Julian Lage)
Lil Darlin (Neal Hefti)
Julian Arguelles Trio with John Abercrombie recorded May 1, 2009 at the Everyman Theatre, Cheltenham
Line up:
Julian Arguelles (saxophones)
John Abercrombie (guitar)
Michael Formanek (double bass)
Tom Rainey (drums)
Set one list:
Redman (Julian Arguelles)
A Life Long Moment (Julian Arguelles)
Interview with Julian Arguelles and John Abercrombie at Cheltenham Jazz Festival
Set two list:
Line Up (John Abercrombie)
Bularious (Julian Arguelles)
Keith Jarrett live date in 2009
25 July @ Royal Festival Hall, London
Hear Keith Jarrett in an extensive interview with fellow pianist Ethan Iverson on Jazz on 3 in 2009
CD tracks:
Artist: Huw Warren (Huw Warren - piano, Peter Herbert - bass, Martin France - drums)
Track title: Santo Antonio
Composer: Hermeto Pascoal
Album title: Hermeto +
Label: Basho Records
Artist: Louis Sclavis (Louis Sclavis - saxophone and clarinet, Matthias Metzger - soprano and alto saxophones, Maxime Delpierre - guitar, Olivier Lete - bass, Francois Merville - drums)
Track title: Les Doutes de Cyclope
Composer: Louis Sclavis
Album title: Lost on the Way
Label: ECM
Artist: Dave Kane's Rabbit Project (Dave Kane - double bass, Matthew Bourne - Fender Rhodes, Joost Hendricks - drums, Simon Kaylor - tenor sax, Simon Beddoe - trumpet)
Track title: The Gorman
Composer: Dave Kane
Album title: The Eye of the Duck
Label: Edition
Links:
http://www.julianlage.com
http://www.julianarguelles.com
http://www.johnabercrombie.com
http://www.myspace.com/huwwarrenmusic
http://en.wikipedia.org/wiki/Louis_Sclavis
http://www.myspace.com/chunkmusic (Dave Kane).
Last on