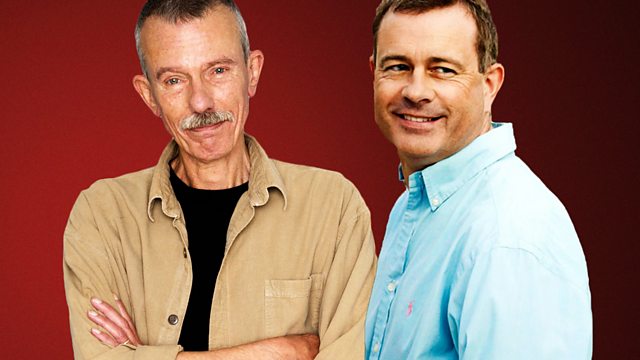 Iain Burnside - Pentecost
With Iain Burnside.
In a programme for Whitsuntide, Iain talks to the Rev Canon Dr Giles Fraser and introduces music by Bach, Gabrieli and Messiaen.
Gabrieli: Hodie completi sunt dies Pentecostes
A sei voci
The Sackbutteers of Toulouse
Yasuko Uyama-Bouvard (organ)
Accord 4723512, Tr 3
Dur: 3m48s
Wagner: Das Liebesmahl der Apostel (excerpt)
Singverein der Gesellschaft der Musikfreunde Wien
Wiener Kammerchor
Mannerchore des Philharmonischen Chors Dresden
Jugendchor Dresden
Dresdner Philharmonie
Michel Plasson (conductor)
EMI CDC5563582, Tr 6
Dur: 10m14s
Messiaen: Le vent de l'Esprit (Messe de la Pentecote)
Gillian Weir (organ)
Priory PRCD923, Tr 12
Dur: 3m13s
Plainsong: Veni creator spiritus
The Cistercian Monks Of Stift Heiligenkreuz
Decca 011489, Tr 27
Dur: 2m30s
Attwood: Psalm 50, Come Holy Ghost
Thomas Colwell (treble)
Choir of St Paul's Cathedral
John Scott (conductor)
Andrew Lucas (organ)
Hyperion CDA 66618, Tr 6
Dur: 3m37s
Schubert: Impromptu in F minor, Op 142 No 4
Edwin Fischer (piano)
Pearl Gemm CD9216, Tr t12
Dur: 4m56s
Stravinsky: Anthem: The dove descending breaks the air
Netherlands Chamber Choir
Reinbert de Leeuw (conductor)
Philips 4544772, Tr 12
Dur: 2m17s
Bach: Erwunchtes Freudenlicht: Duet - Gesegnete Christen (Cantata BWV184)
Yukari Nonoshita (soprano)
Mutsumi Hatano (mezzo-soprano)
Bach Collegium Japan
Masaaki Suzuki (conductor)
BIS CD 2171, Tr 2
Dur: 7m05s
Victoria: Veni creator spiritus
The Sixteen
Harry Christophers (conductor)
Collins 15212, Tr 8
Dur: 7m02s.
Last on