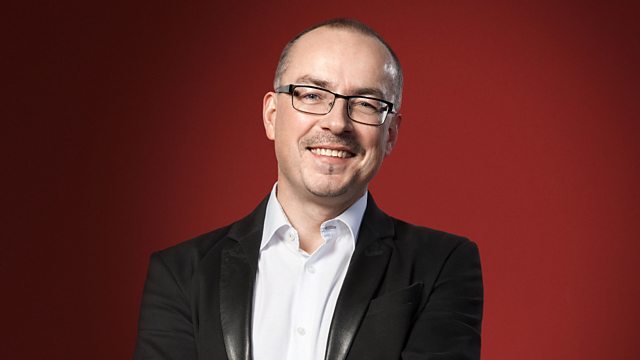 Building a Library: Monteverdi: 8th Book of Madrigals
Building a Library:
MONTEVERDI: Eighth Book of Madrigals
Reviewer - Tess Knighton
First choice:
La Venexiana, Claudio Cavina (director)
GLOSSA GCD 920928 (3 CDs, Mid Price)
CD Review BAL Catalogue Data
bal.monteverdi:
bal.monteverdi.eighth.book.of.madrigals
Andrew McGregor introduces Radio 3's weekly programme devoted to all that's new in the world of recorded music.
In this week's programme (timings are approximate):
09.05 am
PURCELL: Funeral Sentences (Thou knowest, Lord [first setting])
(c/w PURCELL: Jehova quam multi sunt hostes mei; Miserere mei; Remember not, Lord, our offences; Beati omnes qui timent Dominum; Let mine eyes run down with tears; O dive custos; Funeral Sentences (first setting); Thou knowest, Lord (1695); MACMILLAN: O bone Jesu; Mitte manum tuam; A Child's Prayer; Sedebit Dominus Rex)
The Sixteen, David Miller (theorbo), Alistair Ross (organ), Harry Christophers (conductor)
Coro COR16069 (CD)
JENKINS: Suite No. 11 in C minor
(c/w JENKINS: Aria in A major; Suite in A minor; Sonata in D [Adagio]; Diversions in A major; Sonata No. 17 in E minor; MS Goess in A; Suite in G minor)
Hamburger Ratsmusik
Phoenix Edition 141 (CD)
PURCELL: In Nomine (in 7 parts)
(c/w PURCELL: Complete Fantazias)
Fretwork
Harmonia Mundi HMU 907502 (CD)
PURCELL: Sonata I in B minor
(c/w PURCELL: 10 Sonatas in 4 Parts [1697])
Retrospect Trio
Linn CKD 332 (Hybrid SACD)
09.30 am Building a Library Recommendation
MONTEVERDI: Eighth Book of Madrigals
Reviewer – Tess Knighton
First choice recommendation:
La Venexiana, Claudio Cavina (director)
GLOSSA GCD 920928 (3 CDs, Mid Price)
Next week Jonathan Swain compares recordings of Haydn Symphony No. 94 in G 'Surprise'.
10.20 am New Releases
Geoffrey Smith talks us through some recent releases of James MacMillan's music. With extracts from the following discs:
MACMILLAN: The World's Ransoming; The Confession of Isobel Gowdie
Christine Pendrill (cor anglais), London Symphony Orchestra, Colin Davis (conductor)
LSO Live LSO0124 (CD, Budget [also available on Hybrid SACD])
MACMILLAN: O bone Jesu; Mitte manum tuam; A Child's Prayer; Sedebit Dominus Rex; PURCELL: Jehova quam multi sunt hostes mei; Miserere mei; Remember not, Lord, our offences; Beati omnes qui timent Dominum; Let mine eyes run down with tears; O dive custos; Funeral Sentences (first setting); Thou knowest, Lord (1695)
The Sixteen, David Miller (theorbo), Alistair Ross (organ), Harry Christophers (conductor)
Coro COR16069 (CD)
MACMILLAN: Three Interludes from 'The Sacrifice'; Quickening
The Hilliard Ensemble, City of Birmingham Symphony Youth Chorus, City of Birmingham Symphony Chorus, BBC Philharmonic, James MacMillan (conductor)
Chandos CHSA 5072 (Hybrid SACD)
MACMILLAN: Seven Last Words from the Cross; Christus Vincit; Nemo te condemnavit; …here in hiding…(version for ATTB chorus)
The Dmitri Ensemble, Graham Ross (director)
Naxos 8.570719 (CD, Budget)
MACMILLAN: St John Passion
Christopher Maltman (Christus), London Symphony Chorus, London Symphony Orchestra, Colin Davis (conductor)
LSO Live LSO0671 (2CDs, Budget [also available on 2 Hybrid SACDs])
11.10 am Recent Releases
VIVALDI: Juditha Triumphans
Sally-Anne Russell (Juditha), David Walker (Holofernes), Sara Macliver (Abra), Fiona Campbell (Vagaus), Renée Martin (Ozias), Cantillation, Orchestra of the Antipodes, Attilio Cremonesi (conductor)
ABC Classics ABC 476 6957 (2CDs, Mid Price)
TERRADELLAS: Artaserse
Anna Maria Panzarella (soprano), Celine Ricci (soprano), Marina Comparato (mezzosoprano), Sunhae Im (soprano), Agustin Prunell-Friend (tenor), Marivi Blasco (soprano), Royal Chamber Opera Company, Juan Bautista Otero (conductor)
RCOC Records RCOC 088.3 (3 CDs, Mid Price)
MOZART: Idomeneo
Richard Croft (tenor), Bernarda Fink (mezzosoprano), Sunhae Im (soprano), Alexandrina Pendatchanska (soprano), Kenneth Tarver (tenor), Nicolas Rivenq (baritone), Luca Tittoto (bass), RIAS Kammerchor, Freiburger Barockorchester, Rene Jacobs (conductor)
Harmonia Mundi HMC 902036.38 (3 CDs + DVD of the making of the recording, Mid Price)
11.50 am Disc of the Week
SCHUMANN: Liederkreis Op. 24
(c/w SCHUMANN: Myrten Op. 25 [Du bist wie eine Blume, Was will die einsame Trane?, Die Lotosblume]; Tragodie Op. 64 No. 3; Der arme Peter Op. 53 No. 3; Die beiden Grenadiere Op. 49 No. 1; Abends am Strand Op. 45 No. 3; Die feindlichen Bruder Op. 49 No. 2; Belsazar Op. 57; Es leuchtet meine Liebe Op. 127 No. 3; Lehn deine Wang' Op. 142 No. 2; Dein Angesicht Op. 127 No. 2; Mein Wagen rollet langsam Op. 142 No. 4)
Florian Boesch (baritone), Malcolm Martineau (piano)
ONYX 4041 (CD)
Last on