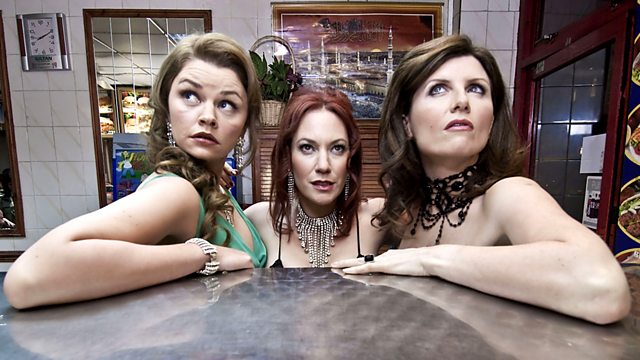 Special
One-off special comedy based around the tangled love lives of three women.
Louise is moving in with Joe, the love of her life; Donna has found a rich man with no personality; and Karen has realised that the only thing a woman really wants in life is to make her man happy, so she has found herself a chauvinist.
So everything's sorted, or at least until things start to go wrong. Louise discovers that in actual fact she sort of hates the love of her life and spends more and more time trying to get away from him.
Karen is fine until Billy staggers back into her life and tells her that he's dying. She decides that she's going help him do all the things in life that he wished he done. What she didn't realise was that all these things were to be done on drugs and she is soon sucked back into a world of drunken insanity.
Donna is fine until Karl comes back from Italy. The moment she discovers this she dumps her new rich man, but when she discovers that Karl has returned to marry his Italian girlfriend, she immediately picks the rich man up again and pretends that everything is fine. Donna sees the girlfriend with someone else, but is told that they are having an open relationship. Donna is horrified at what Italy has done to the man she once loved.
Things come to a head when Joe, misreading Louise's reticence as love, invites her into a hot-air balloon and promptly asks her to marry him. She turns him down.
Karen finds out that Billy isn't really dying, while Donna tells Karl that she's come to terms with his open relationship.
The show ends with a wedding, a puppy in a hospital room and the cliffhanger of whether Karl gets on a plane and leaves Donna's life forever.
Last on
Credits
| Role | Contributor |
| --- | --- |
| Donna | Sharon Horgan |
| Karen | Tanya Franks |
| Louise | Rebekah Staton |
| Karl | Cavan Clerkin |
| Tanya | Juliet Cowan |
| Martin | Paul Ritter |
| Stephan | Tobias Menzies |
| Greg | Tom Brooke |
| Oleg | Andrew Brooke |
| Billy | Paul Kaye |
| Joe | Steve Jackson |
| Sabina | Monica Nappo |
| Dolphin guy | Spencer Jones |
| Registrar | Romy Baskerville |
| Writer | Sharon Horgan |
| Writer | Dennis Kelly |
| Producer | Jemma Rodgers |
| Director | Tristram Shapeero |