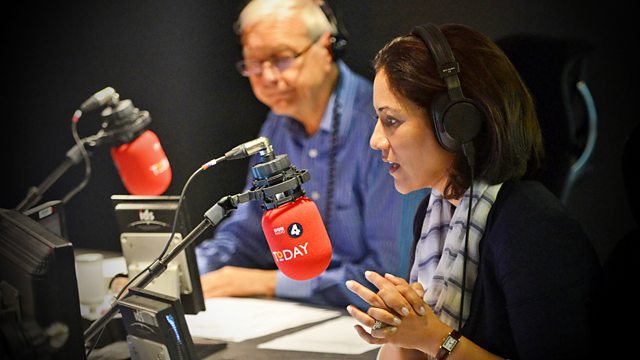 04/06/2009
Presented by John Humphrys and Evan Davis.
Middle East expert David Makovsky discusses whether Barack Obama's speech in Cairo will arouse expectations that cannot be fulfilled.
A round-robin letter demanding Gordon Brown's resignation has been seen by journalists. James Naughtie reports on the mood in Westminster after recent events.
Solicitor Astrid Coates explains the case of a patient who died after mistakes during treatment for throat cancer.
Science correspondent Pallab Ghosh reports on how Neil Armstrong's famous moon landing words may have been wrongly quoted.
The BBC has been attacked by the Public Accounts Committee for not releasing the information on how much it pays its top radio presenters. Committee chairman Edward Leigh and Jeremy Peat of the BBC Trust discuss whether the information should be released.
Arts correspondent Rebecca Jones visits an exhibit by artist Steve McQueen and former Velvet Underground member John Cale.
Thought for the day with Dr David Wilkinson, principal of St John's College, Durham.
It is 20 years since tanks crushed protests in Tiananmen Square, Beijing. Correspondent John Simpson was reporting for the BBC that day and Andrew To was in Tiananmen just before the massacre. They discuss the events and how the anniversary is being commemorated.
'You can best serve the country by stepping down as party leader', a draft email to Gordon Brown signed by MPs says. Political editor Nick Robinson reports on how many Labour politicians could sign it.
Madeleine Albright, secretary of state under President Clinton, and Amr Moussa, secretary-general of the Arab League, discuss President Obama's speech in Cairo and his prospects for the Middle east.
The BBC is launching an online collection of George Orwell's work to mark the 60th anniversary of the publication of his novel 1984. Jean Seaton, the BBC's official historian, talks about the collection.
Dr Kelly Berube and Dr Peter Kohl discuss if there is still a need for animal testing.
Nicola Stanbridge investigates whether the music label Factory Records contributed significantly to the regeneration of Manchester.
Ever heard of thriller writer Eric Ambler? Mark Mazower, professor of history at Columbia University, and Joyce Fowell, Eric Ambler's sister, discuss why he has virtually disappeared.
Author Reza Aslan and Abdel Bari Atwan, editor of Al Quds Al-Arabi newspaper, discuss the high expectations of President Obama's speech.
Last on