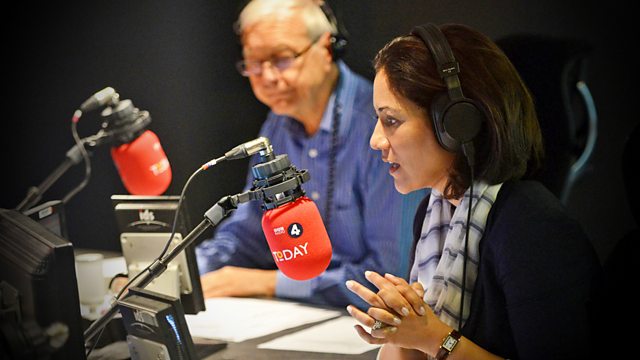 03/06/2009
Presented by James Naughtie and Sarah Montague.
Correspondent David Loyn considers if multinational US companies can be held responsible for human rights abuses overseas.
The Green Party is hoping the current political turmoil will cause voters to turn away from the big parties in the European elections. Party leader Caroline Lucas discusses the party's prospects.
Correspondent Quentin Sommerville reports on how the Chinese are remembering the events at Tiananmen Square.
Publisher Mark Holland describes a new online service which gives easy access to historical literary works.
The family found dead under the cliffs at Beachy Head in Sussex has been named. A friend of the family, Hugh Huddy, talks about the tragedy.
Historian Richard Holmes gives a tour of Winston Churchill's secret World War II bunker in London.
Thought for the day with Akhandadhi Vas, a Vaishnav Hindu teacher and theologian.
Leader of the Liberal Democrats Nick Clegg discusses the elections and expected government re-shuffle.
The prime minister needs to 'take control' of his party ahead of the European elections, the party's former deputy leader Roy Hattersley says. Former Lord Chancellor Lord Falconer considers how Gordon Brown can demonstrate his authority.
Labour's Deputy Leader Harriet Harman says that Labour has work to do and 'we are going to do it' - and rejects suggestions that the government is in chaos.
Correspondent Frank Gardner reports that an al-Qaeda cell is believed to have killed a British hostage.
Great tits change their voice in urban areas, scientists at Aberystwyth University have discovered. Animal behaviour expert Dr Rupert Marshall, the leader of the research, explains how this can be proved.
Political editor Nick Robinson analyses if Gordon Brown will remain Labour party leader.
Kate Adie, a BBC correspondent in Beijing at the time of the Tiananmen protests, and Jonathan Fenby, China director at the research service Trusted Sources, discuss if the slaughter could have been prevented in 1989.
Correspondent Bob Walker visits Derbyshire, where Labour has held power for almost thirty years but faces the prospect of losing overall control.
Political commentator Anthony Howard, political columnist Steve Richards and Julia Clark of Ipsos Mori, discuss why protest votes might be used in the European elections.
Last on