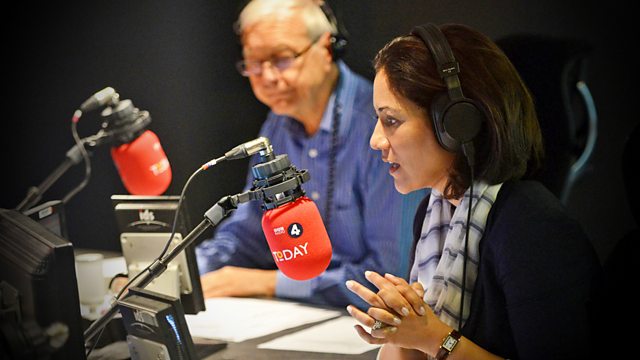 02/06/2009
Presented by James Naughtie and Sarah Montague.
French and Brazilian authorities are searching an area of the Atlantic for any sign of the Air France plane which disappeared in a thunder storm. French military spokesman Commander Christophe Prazuck discusses the possibility of finding survivors.
Mark Easton explains the results of a survey into MPs' standing with the public.
The scale of the war damage to the main city in the Swat valley has become clear, as fears are expressed about the humanitarian situation in the region. Correspondent Barbara Plett looks at whether the military operation is receiving widespread support.
Former Lord Chancellor Lord Falconer and George Pitcher, of the Telegraph, discuss if the threat of prosecution for those who help somebody to kill themselves overseas should be lifted.
Jeremy Bowen explains how US President Barack Obama hopes to bring peace to the Middle East.
Scientists have located 38 emperor penguin colonies in Antarctica by using satellites to look for stains from the animals' droppings. Peter Fretwell, lead author of the research, discusses the identification of ten previously unknown colonies.
Thought for the day with Canon Lucy Winkett of St Paul's Cathedral.
A substantial majority of the electorate believe that MPs have forfeited the right to regulate themselves, a survey for the BBC suggests. Conservative leader David Cameron discusses how faith can be restored in politicians.
President Obama has said the US can help kick-start meaningful peace talks in the Middle East. North America editor Justin Webb talks to the US president about how the situation in the area can be stabilised.
Reporter Dil Neiyyar reports on the growing enthusiasm for allotments.
Sir Ken Macdonald, former director of public prosecutions, discusses whether those involved in assisted suicide abroad are likely to be prosecuted.
Labour MP and Chairman of the Home Affairs Select Committee Keith Vaz and Alf Hitchcock, of the Association of Chief Police Officers, discuss if there has been a kind of 'arms race' that has resulted in youngsters carrying a knife.
Correspondent Kevin Connolly discovers what happens to the car dealers GM is dumping in New Mexico.
Why did Air France's airbus disappear over the Atlantic? Kieran Daly, editor of airline news service Air Transport Intelligence, discusses what could have caused the aircraft to vanish.
Last on