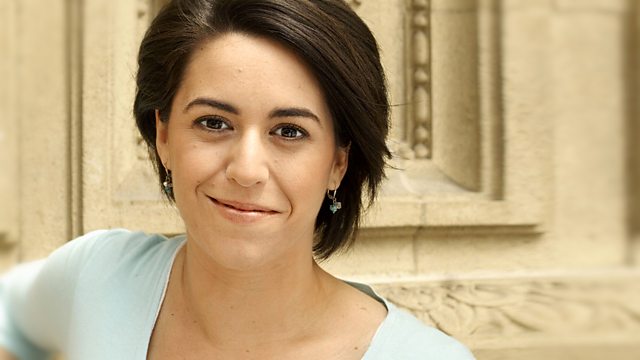 1809
With Suzy Klein.
An exploration of some of the musical and cultural events of the year 1809, with guest Marshall Marcus, head of music at the South Bank Centre, London. Featuring works by Haydn, Beethoven, Mendelssohn, Spohr and Paganini.
Paganini: Caprice in E, Op 1 No 1
Michael Rabin (violin)
EMI 67998, Tr 1
Duration: 1m43s
Reicha: Wind Quintet in E flat major, Op 88 No 2
Academia Wind Quintet of Prague
Hyperion CDA 66268, Tr 5
Duration: 5m10s
Britten: Nocturne (Serenade, Op 31)
Philip Langridge (tenor)
Frank Lloyd (horn)
English Chamber Orchestra
Stueart Bedford (conductor)
Naxos 8.557199, Tr 3
Duration: 3m35s
Mendelssohn: String Symphony No 5 in B flat
Concerto Koln
Warner Classics 2564 69270-9, Trs 12-14
Duration: 10m25s
Moondog: Up Broadway
No artists credited on CD
CDJZD 006, Tr 17
Duration: 4m45s
Vincenzo Galilei: Passamezzo
Ugo Nastrucci (lute)
Agora AG 137, Tr 21
Duration: 2m05s
Field: Midi in E (Allegretto)
John O'Conor (piano)
Telarc CD-80199, Tr 15
Duration: 4m10s
Shostakovich: Gallop (The Nose)
Leningrad Philharmonic Orchestra
Gennady Rozhdestvensky (conductor)
Melodiya 74321-60319-2 CD1, Tr 6
Duration: 1m55s
Elgar: (from The Dream of Gerontius) Part II: But hark! Upon my sense comes a fierce hubbub (Demons' Chorus)
Gerontius ...... Richard Lewis (tenor)
Angel ...... Janet Baker (mezzo)
Halle Chorus
Sheffield Philharmonic Chorus
Ambrosian Singers
Halle Orchestra
John Barbirolli (conductor)
EMI 5 03603 2 CD14, Trs 5-6
Duration: 5m15s
Rossini: String Sonata No 6 in D (Finale - Allegro tempesta)
Elizabeth Wallfisch (violin)
Marshall Marcus (violin)
Richard Tunnicliffe (cello)
Chi Chi Nwanoku (bass)
Helios CDH 55200, Tr 18
Duration: 8m00s
Beethoven: Piano Sonata no 26, Op 81a (Les Adieux) - 1st mvt
Melvyn Tan (fortepiano)
Virgin Classics 562 682 CD5, Tr 1
Duration: 6m35s
Paganini: Violin Concerto No 1 (Rondo - finale)
Yehudi Menuhin (violin)
Orchestre Symphonique de Paris
Pierre Monteux (conductor)
EMI 565 959 2, Tr 2
Duration: 9m10s
Spohr: String Sextet, Op 140 (Slow movement)
New Haydn Quartet
Naxos 8.555968, Tr 11
Duration: 4m40s
Rachmaninov: Prelude in E minor, Op 32 No 4 (Allegro con brio)
Steven Osborne (piano)
Hyperion CDA 67700, Tr 15
Duration: 5m07s
Purcell: Fairest Isle (King Arthur)
Venus ...... Veronique Gens (soprano)
Les Arts Florissants
William Christie (conductor)
ERATO 0630 11833 2, Tr 1
Duration: 04m40s
Haydn: String Quartet in G, Op 77 No 1 (1st mvt)
Emerson Quartet
DG 471327 CD 2, Tr 9
Duration: 7m12s
Beethoven: Piano Concerto No 5 in E flat (Emperor), Op 73 (finale with a bit of slow movement beforehand)
Artur Pizarro (piano)
Scottish Chamber Orchestra
Sir Charles Mackerras (conductor)
LINN CKD 336 CD 2, Tr 2 (part) and tr 3
Duration: 10m05s.
Last on