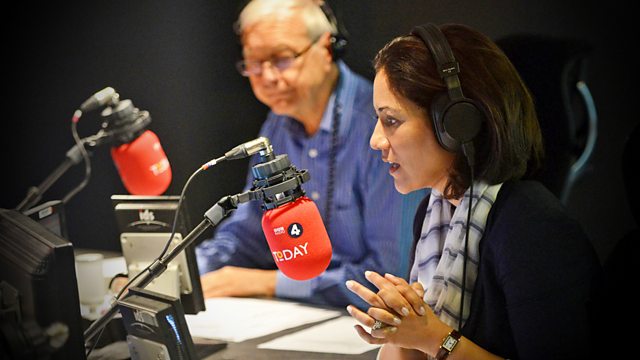 26/05/2009
Presented by James Naughtie and Edward Stourton.
Dr Euan Dunne of the RSPB discusses the unprecedented decision to scrap the current system of EU fishing quotas.
Church of Scotland leaders have voted to uphold the decision to appoint a gay minister to a church in Aberdeen. Rev Ewen Gilchrist discusses if the issue could divide the Church.
Phil Mercer reports on Brian Eno's plan for projecting moving art onto the sails of the Sydney Opera House.
Political research editor David Cowling and Lib Dem Ed Davey discuss how recent events will affect results in the European elections.
Chris Dearden reports on the discovery of a wreck that may contain gold bound for Bonnie Prince Charlie.
Rob Booth, chief instructor of the Academy of Safe Motorcycling, discusses the manoeuvre known as 'the swerve test'.
Thought for the day with Canon Lucy Winkett, of St Paul's Cathedral.
Poet Michael Horowitz discusses the resignation of Ruth Padel, the first woman to become the Oxford Professor of Poetry.
UK Ambassador Sir John Sawers and US foreign policy expert Mark Fitzpatrick discuss North Korea's nuclear testing.
Shadow foreign secretary William Hague discusses David Cameron's proposals to address voter disgust over MPs' expenses - which include fixed-term Parliaments and free votes for MPs.
Kevin Connolly investigates the craze for fixed wheel bikes in urban America.
The Taliban is recruiting children and teenagers as suicide bombers to carry out attacks across Pakistan, authorities say. Owen Bennett-Jones reports.
James Barratt, of Cambridge University, discusses if overfishing in fresh water that reportedly occurred in around 1000 AD is similar to the current problems with open sea fishing.
Correspondent John Sudworth says North Korea has now, at least in theory, the potential to develop an atomic bomb.
Academics Lisa Jardine and Mary Beard discuss if academic careers can be destroyed by gossip.
Former Tory MP Michael Brown and Matthew Taylor, chief executive of the RSA, discuss if political reform can be implemented easily.
Last on
So you think you know the Today programme?