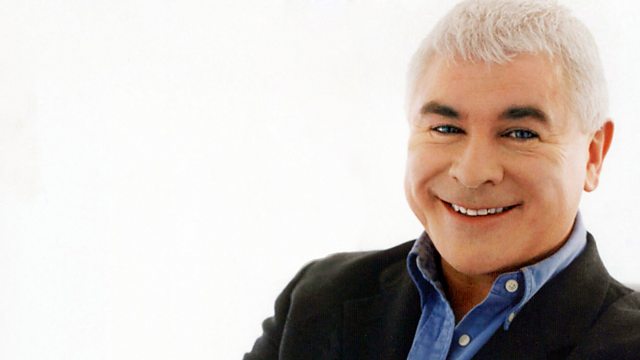 22/05/2009 Coro Cervantes and Julian Rachlin
Sean Rafferty presents a selection of music and guests from the arts world.
Ahead of the release of their fourth album, Yamomami, Coro Cervantes and director Carlos Fernandez Aransay perform in the studio, with guitarist Fabio Zanon. Yamomami includes music from Spain, Argentina and Brazil.
Plus violinist Julian Rachlin playing in the studio and talking to Sean about his forthcoming performance at Cadogan Hall, where he directs the Academy of St Martin in the Fields from the violin. The programme includes music by Grieg, Schubert and Mozart.
17.03
PROKOFIEV
Violin Concerto No 1 in D, Op 19 (2nd movement: Scherzo Vivacissimo)
Julian Rachlin (violin)
Moscow Radio Symphony Orchestra
Vladimir Fedoseyev (conductor)
SONY SK 66567
Track 2
3.42
17.07
DEBUSSY
Pagodes (Estampes)
Aldo Ciccolini (piano)
EMI CDC 7 54447 2
Track 1
4.40
17:11:45
LIVE
NOBRE
Yanomani
Coro Cervantes
Fabio Zanon (guitar)
Carlos Fernandez Aransay (Conductor)
1.32
17:20
LIVE
SURINACH
Pontius Pilate; Scarlet Robe; The Son of God (Via Crucis)
Coro Cervantes
Fabio Zanon (guitar)
Carlos Fernandez Aransay (conductor)
4.17
17:29
LIVE
MORUJA
O bone Iesu; Lux Aeterna
Coro Cervantes
Carlos Fernandez Aransay (conductor)
3'11
17:33
ALBENIZ (orch Arbos)
Iberia Suite (El Puerto)
Orchestre de Paris
Conductor Daniel Barenboim
ERATO 2292-45266-2
Track 4
5.22
17:42
BACH
Brandenburg Concerto No 2 in F, BWV1047
European Brandenburg Ensemble
Trevor Pinnock (director)
AVIE AV 2119
CD 2 Track 1-3
11.22
17:52
CHOPIN
Mazurka in c minor, Op.30 No.1
Fou T'song (piano)
NIFCD001
Track 3
1'34
17:55
VERDI
La Traviata (Act 1: "Follie! Delirio van e questo …! Sempre libera")
Renata Scotto (Violetta)
Gianni Raimondi (Alfredo)
Chorus & Orchestra of La Scala Milan
DEUTSCHE GRAMMOPHON DG 477 812 1
CD 5, track 9
4.53
18:03
GRAINGER
Handel in the Strand
Penelope Thwaites & John Lavender (pianos)
SHE CD 9623
Track 4
4.07
18:09
MOZART
Violin Concerto No 3 in G, K216 (3rd movement: Rondeau)
Julian Rachlin (violin)
Bavarian Radio Symphony Orchestra
Mariss Jansons (conductor)
WARNER 2564 61561 2
Track 3
6.08
18:21
LIVE
BEETHOVEN
Violin Sonata in E flat, Op 12 No 3 (1st movement: Allegro con spirito)
Julian Rachlin (violin)
Tomoko Shigeno (piano)
5'58
18:33:30
LIVE
BEETHOVEN
Violin Sonata in F, Op 24 "Spring" (4th movement: Rondo)
Julian Rachlin (violin)
Tomoko Shigeno (piano)
6.10
18:45
BRITTEN
I loved; At round earth's imagined corners (The Holy Sonnets of John Donne)
Ian Bostridge (tenor)
Graham Johnson (piano)
HYPERION CDA66823
Track 24, 25
6'05
18:47:30
STRAVINSKY
Scherzo Fantastique
Concertgebouw Orchestra
Riccardo Chailly (conductor)
DECCA 458 142 2
Track 1
Last on