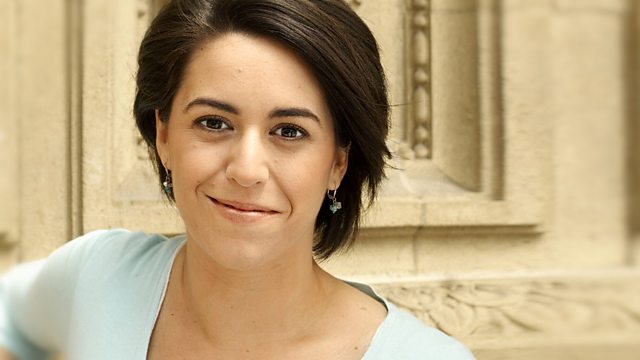 Suzy Klein - The Sky
With Suzy Klein.
Featuring music inspired by the sky, some of the things in it and the changing nature of the light that fills it.
Haydn: String Quartet, Op 76 No 4 (Sunrise) (Allegro con spirito)
Alban Berg Quartet
EMI CDC 556 166 2, Tr 13
Duration: 8m25s
Nielsen: Helios Overture, Op 17
Danish National Symphony Orchestra
Thomas Dausgaard (conductor)
DaCapo 6.220518, Tr 14
Duration: 11m50s
Skempton: If Pigs Could Fly
Alexander Wells (piano)
New London Children's Choir
Ronald Corp (conductor)
Naxos 8.572113, Tr 1
Duration: 1m15s
Holst, arr Stephen Roberts: Jupiter (The Planets)
Black Dyke Band
Nicholas Childs (conductor)
Naxos 8.570726, Tr 9
Duration: 7m40s
Josef Strauss: Music of the Spheres Waltz, Op 235
Cincinnati Pops Orchestra
Erich Kunzel (conductor)
Telarc CD-80414, Tr 10
Duration: 9m15s
Chet Baker: Stairway to the Stars
Chet Baker Quintet:
Chet Baker (flugelhorn)
George Coleman (tenor)
Kirk Lightsey (piano)
Herman Wright (bass)
Roy Brooks (time)
Prestige PR20 7478-2, Tr 2
Duration: 4m40s
Debussy: Nuages (Nocturnes)
Cleveland Orchestra
Pierre Boulez (conductor)
DG 439 896-2, Tr 1
Duration: 6m05s
Purcell: Sonata No 1 in B minor
Retrospect Trio:
Sophie Gent (violin)
Matthew Truscott (violin)
Jonathan Manson (bass viol)
Matthew Halls (harpsichord/organ)
Linn CKD 332, Trs 1-4
Duration: 6m20s
Janacek: The Excursions of Mr Broucek (Act 2, Danz)
BBC Symphony Orchestra
BBC Singers
soloists
Jiri Belohlavek (conductor)
DG 477 7387 CD1, Tr 8
Duration: 5m20s
Beethoven: Sonata No 14 (Moonlight)
Ronald Brautigam (fortepiano)
BIS SACD 1473 Trs 9-11
Duration: 14m25s
Dvorak: Song to the Moon (Rusalka)
Amanda Roocroft (soprano)
London Philharmonic Orchestra
Franz Welser-Most (conductor)
EMI 555 090 2, Tr 9
Duration: 6m
Phyllis April King: Red Admiral
Phyllis April King (reader)
Virgin CDV 2065, Tr 29
Duration: 45s
Rameau: Castor et Pollux
Les Arts Florissants
William Christie (conductor)
Harmonia Mundi HMC 901435.37 CD3, Tr 16
Duration: 7m
Colin Matthews: Pluto
Halle Orchestra
Mark Elder (conductor)
Hyperion CDA67270, Tr 8
Duration: 6m15s
Sister Rosetta Tharpe: When I Move to the Sky
Proper Records Proper box CD3, Tr 18
Duration: 2m50s
Lauridsen: Lux Aeterna (last mvt)
Britten Sinfonia
Polyphony
Stephen Layton (conductor)
Hyperion CDA 67449, Tr 5
Duration: 9m25s.
Last on